Wool socks – check.
Walking poles – check.
Notebook, pen, recorder – check.
I'm a documentarian at heart and I couldn't let that go, even as we embarked on a journey up to the top of the world's highest free-standing mountain. Enjoy this candid version of our adventure from my journal, plus an audio diary for each day (that wouldn't be complete without laughing attacks and sisterly quarrels).
Be sure to check out my other posts on Kilimanjaro:
8 Insider Tips to Hiking Mount Kilimanjaro
The Complete Packing Guide to Mount Kilimanjaro
Day 1, February 15, 2018: Machame Gate to Machame Camp
3,000m
We are currently at Machame Camp at 3,000 ft. It is a bit chilly now – I'm dressed in a fleece and leggings. But we wore shorts and t-shirts during the day and we got really sweaty.

We got breakfast this morning at 7 a.m. and I met the only other guy who was traveling with us. His name is Yichao and is very nice. There were 'mofo balls' (mofo means bread in Malagasy) for breakfast. I see so many similarities to Madagascar already – the houses, buildings, the colorful fabric women wear around their waists. Prosper, our guide, came to our room after breakfast to complete a gear check. He seems very friendly and very knowledgeable. He told us that he has climbed Kili almost 400 times! We are in good hands.

We went to the Gladys office to pick up the rest of the gear – Gladys, too, is a very nice, bubbly woman. We received a warm welcome.

Molly and I got on to the bus to find it packed with porters. We were shocked. Fourteen porters, one chef, a tour guide, and an assistant tour guide. All for the three of us.


We met our assistant guide, Kash, He is very funny and sweet. "Kash baby" is what they call him because he looks so young, though he is 32 years old.

We waited for about an hour, while the porters packed up our supplies. The packs they carry on their backs up the mountain cannot exceed 20 kilograms, per national law. The Tanzanian government set up weighing stations at each camp up the mountain in an effort to enforce the regulation.

We filled our Camelbaks with 3 liters of water and got a boxed lunch to bring up the mountain (apple, sandwich, carrots, muffins and mango juice). Right before we started to hike, the porters sang a song in Swahili. I hope we can learn it this week!
There are so many people climbing this route, but it is still wonderful. The path is clearly designated and neatly kept (it even has steps in some spots), but steep. 'Pole, pole' is our new motto (it translates to slowly, slowly in Swahili) and if you don't, then "Kili will kill you" says Kash. He tells us to keep drinking water and when we need to go to the bathroom we can ask "to use the internet" or let him know that we "need to download something."

I'm so fascinated by Tanzanian culture and feel like I have so many questions. I am trying to learn as much Swahili as possible. I feel like Peace Corps has changed the way in which I travel in this way.

Around 5:15 p.m., we arrived to Machame Camp to find dozens of tents. Our porters, along with the porters of at least ten other groups, had set up camp while we were still making our way up. They are quite impressive as they carry so much gear up the mountain and still manage to pass us on the trail.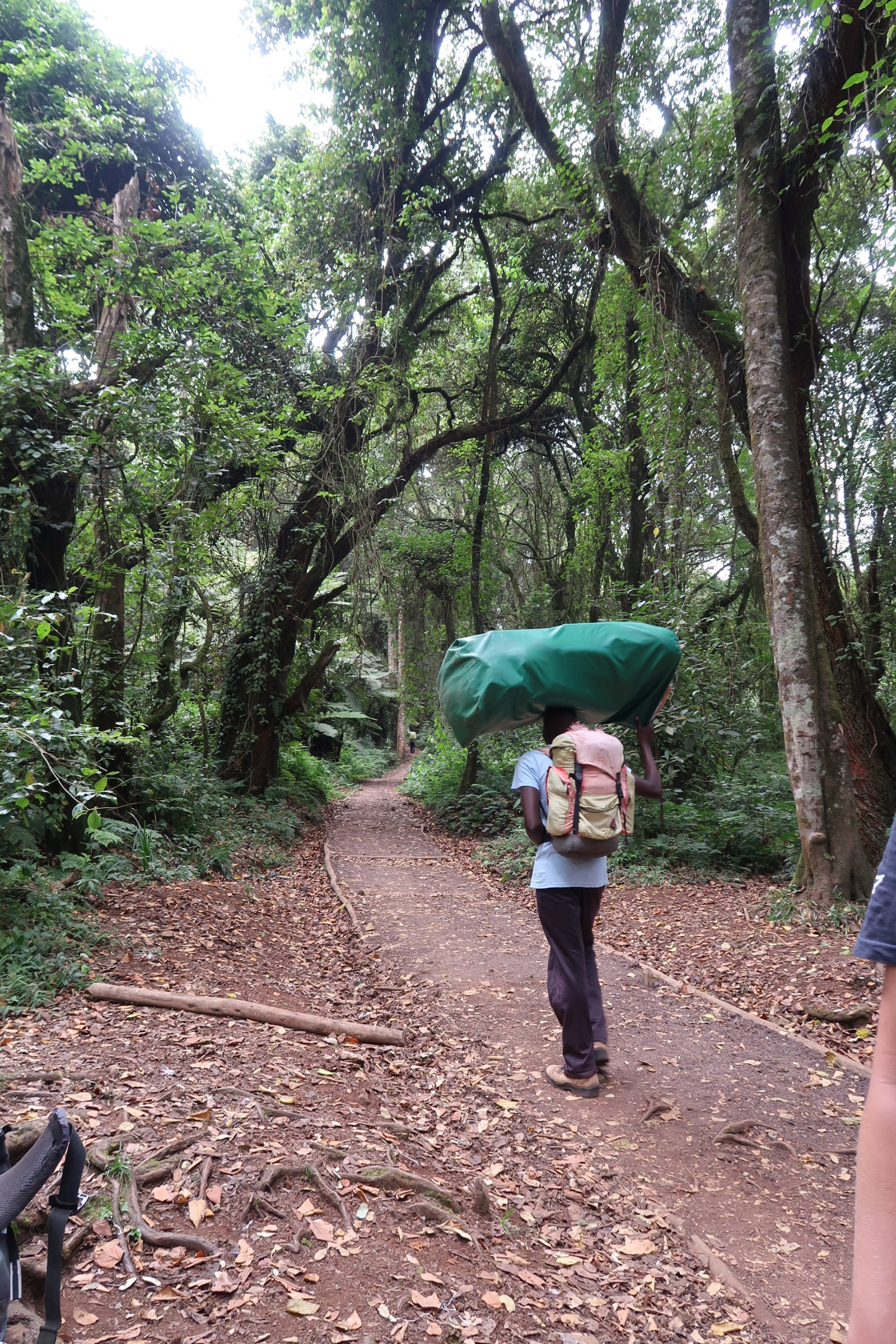 We rinsed our faces with warm water and washed our sweaty t-shirts (which never dried). We ate popcorn and drank tea and hot chocolate. Our backs hurt, but we feel good besides that. It is starting to get cold.

Joseph, a porter whose goal is to become a guide, chatted with us. He, too, is very friendly.

For dinner, Foustein, our cook, made us cucumber soup, sauteed veggies, potatoes and fish. All of it was delicious.
Day 2, February 16, 2018: Machame Camp to Shira Camp
3,780m
After closing my eyes last night, I fell asleep immediately. I didn't drink enough water during the day so I chugged water right before I went to bed. Molly and I peed and it was so cold. Molly said the stars were unbelievable – I couldn't see them because I didn't have my glasses on.
We woke up this morning to a gentle sequence of pats on our tent, followed by 'good morning' in a calm voice. A few seconds later, we hear Samuel sing "Coffee, tea! Coffee tea!" We thought we were being summoned to the dining tent, but instead Samuel was right outside of our tent with a tray of coffee and tea. We quickly handed us two cups of coffee and we drank them in our sleeping bags.
We freaked out when we got breakfast in the morning – there was avocado toast, crepes, nutella, and eggs! We are treated so well. We get warm water in the morning to wash our faces. We packed our bags and the porters filled our Camelbaks with 3 liters of water that they fetched from a nearby river. The porters take care of everything and they sprint up the mountain too.
After breakfast, Prosper took out temperature and recorded our oxygen levels. Mine was 95 percent which he said was very good, as most people on the mountain never have 100 percent.
Today we hiked for five hours. But only about 6k. It was much steeper today. But our legs feel strong. Kash led us and Prosper followed. I started hiking with a fleece and pants but it got hot and I zipped off my pants (into shorts) and wore a t-shirt. We ate snacks along the way. We saw Mount Meru which was beautiful. I can't believe it is lower than Kili.
As we climb, we say "Twende pole, pole!" Let's go slowly!
We passed the 'ever-lasting flower' as they call it. But today we left the rain forest. Now it is just shrubs and rocks. We are in the clouds now. Often it is so foggy, it is hard to see in the distance.
We got to Shira Camp around 1:15 p.m. and had lunch. Out porters – who arrived two hours earlier than us – had everything set up when we arrived. They sang us the song and we clapped to its rhythm. For lunch, we had bananas, oranges, passion fruit, zucchini soup, and spaghetti with vegetables. We took a nap in our tent and then went on an hour hike to acclimatize. It's chilly now, so I am wearing warm leggings, a t-shirt, fleece, a jacket and a wool hat. It rained (not too hard) on our acclimatization hike. We walked past the caves, or "shira" in Swahili, that people used to sleep in. That's no longer allowed due to the caves' condition. Joseph led us.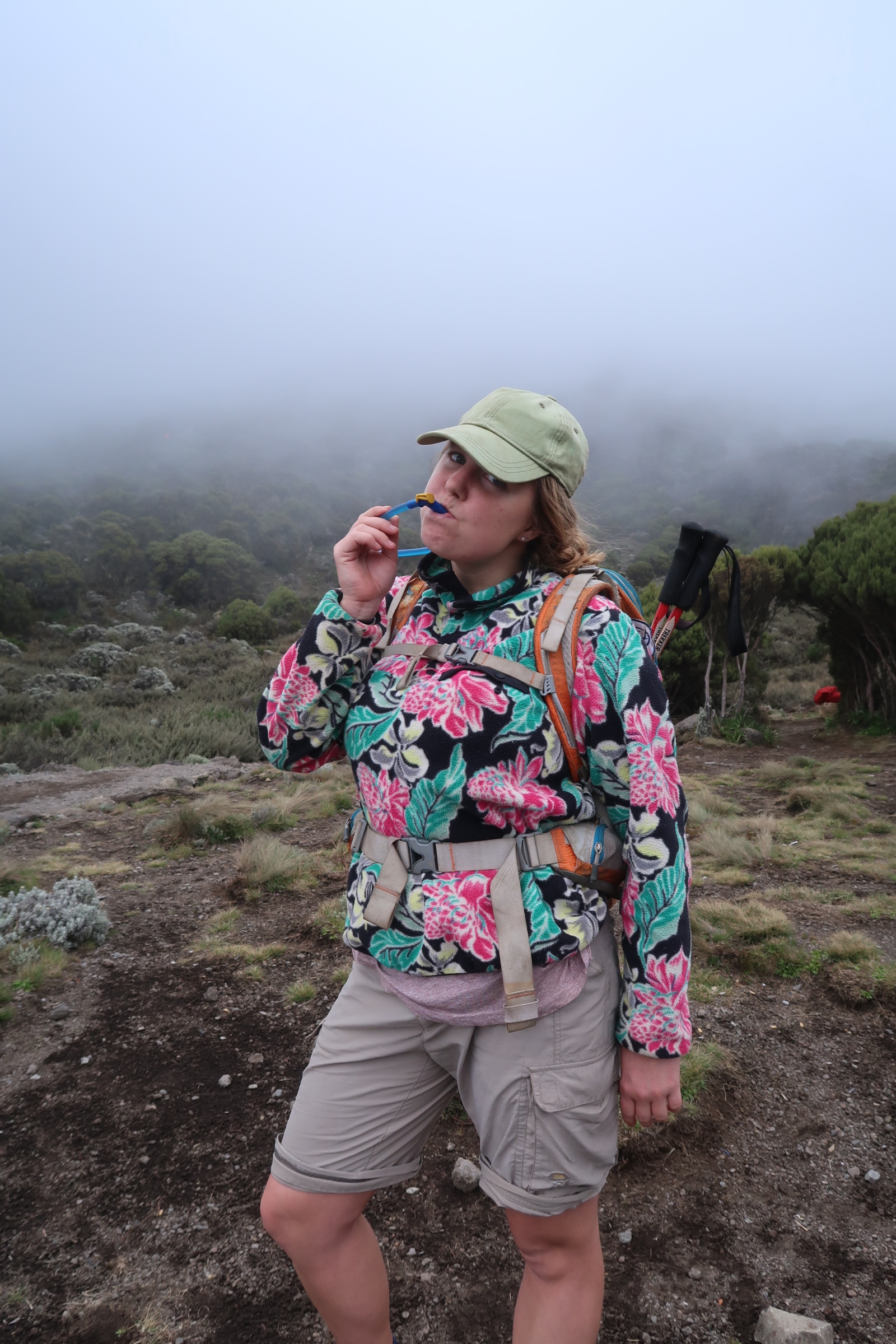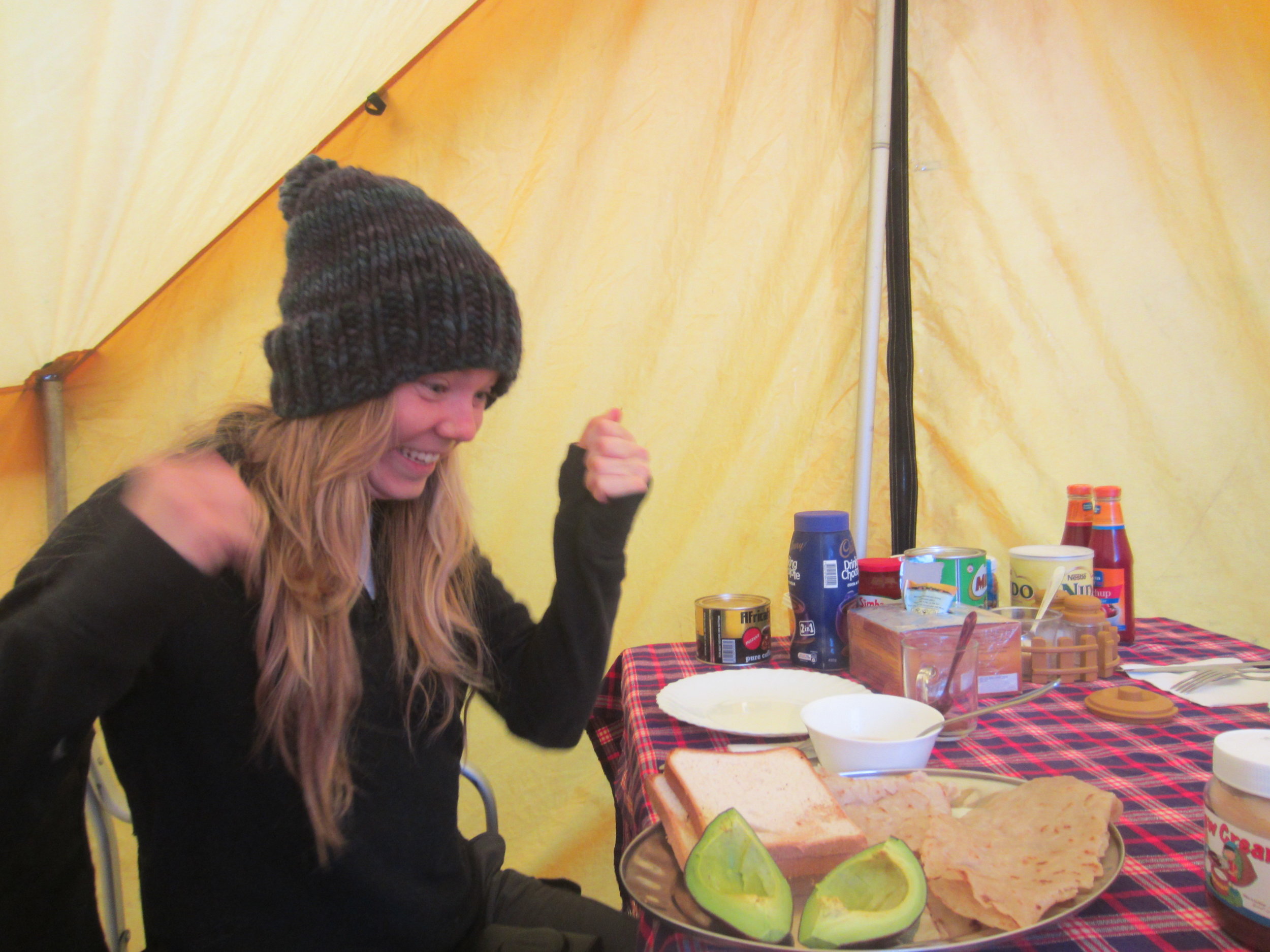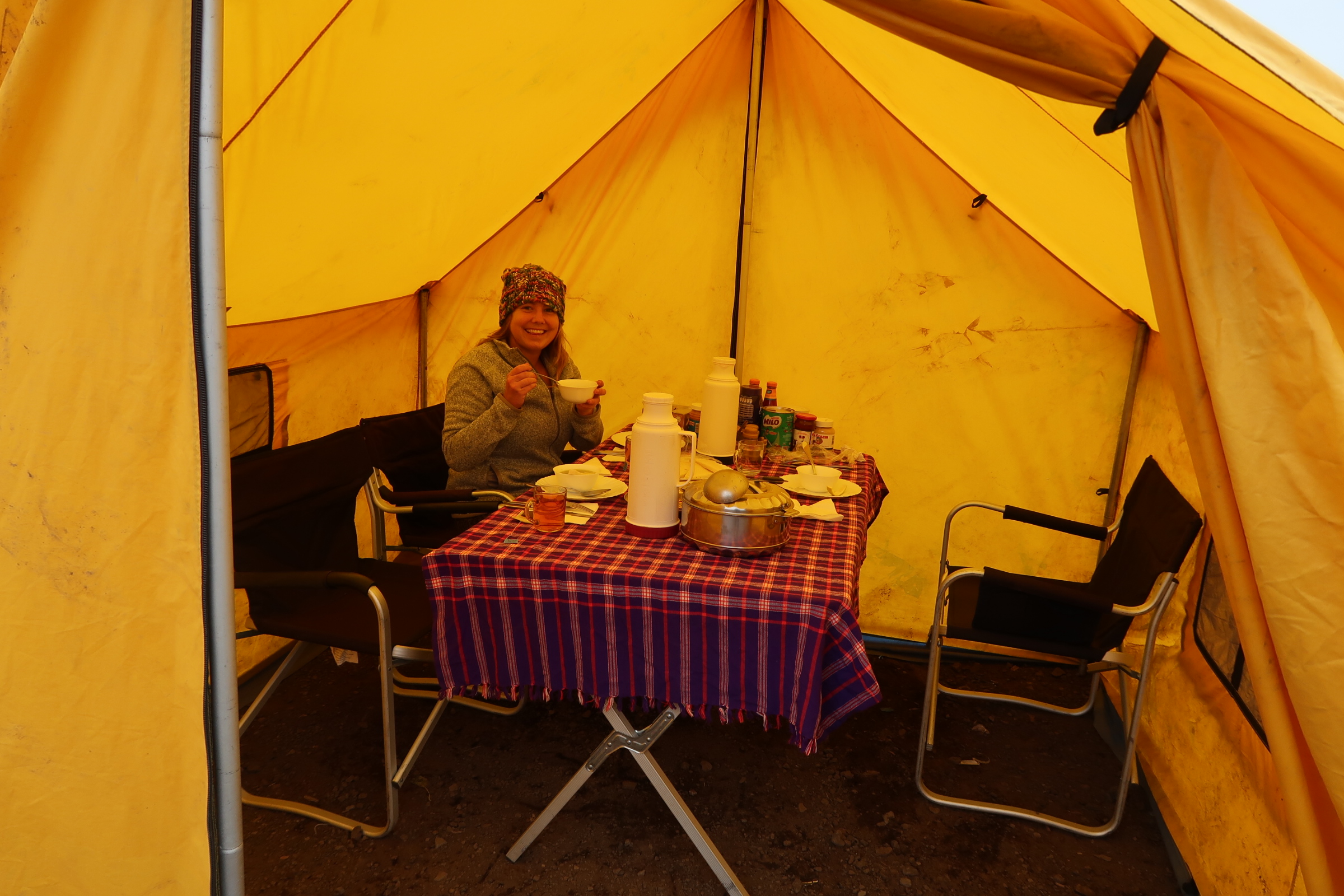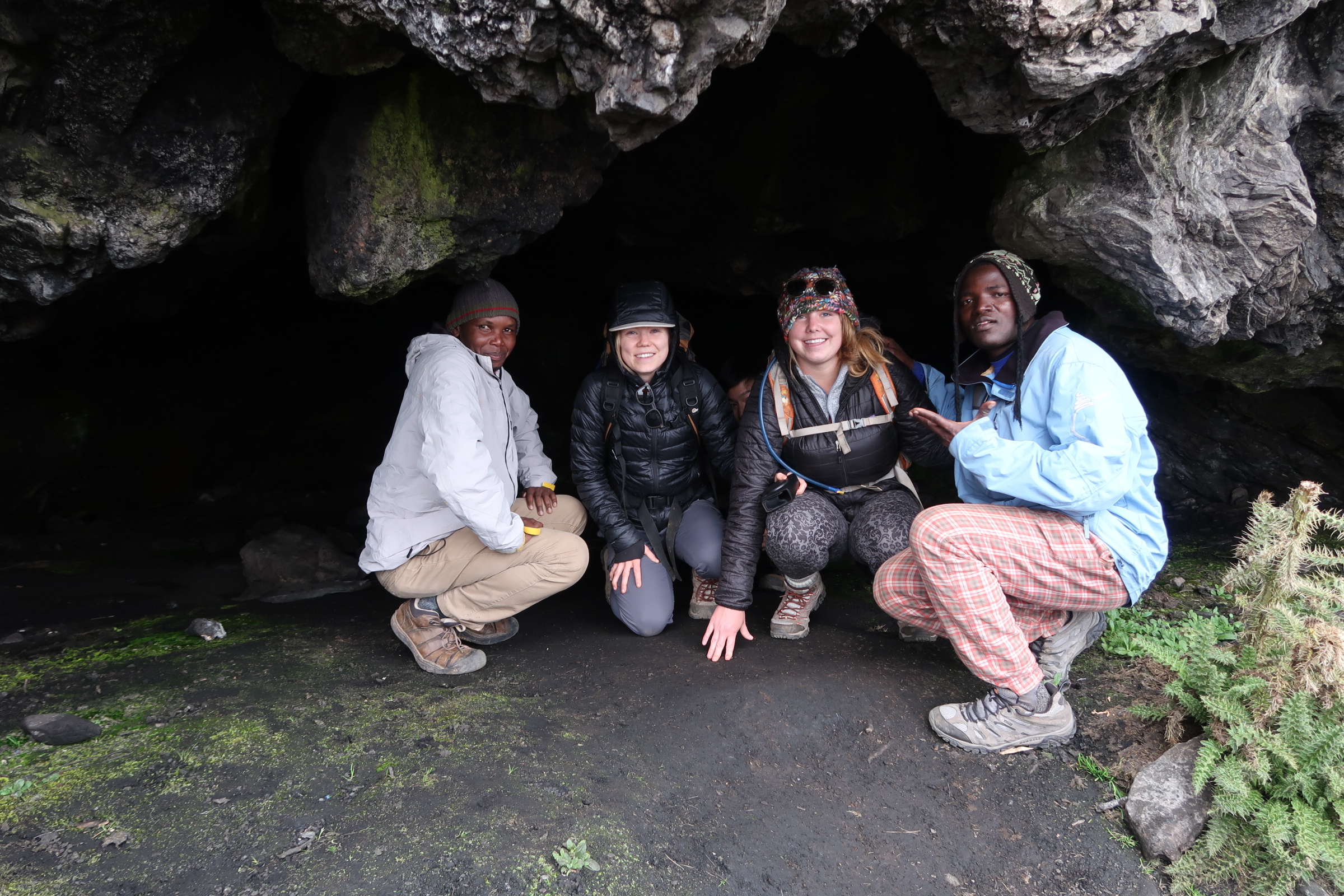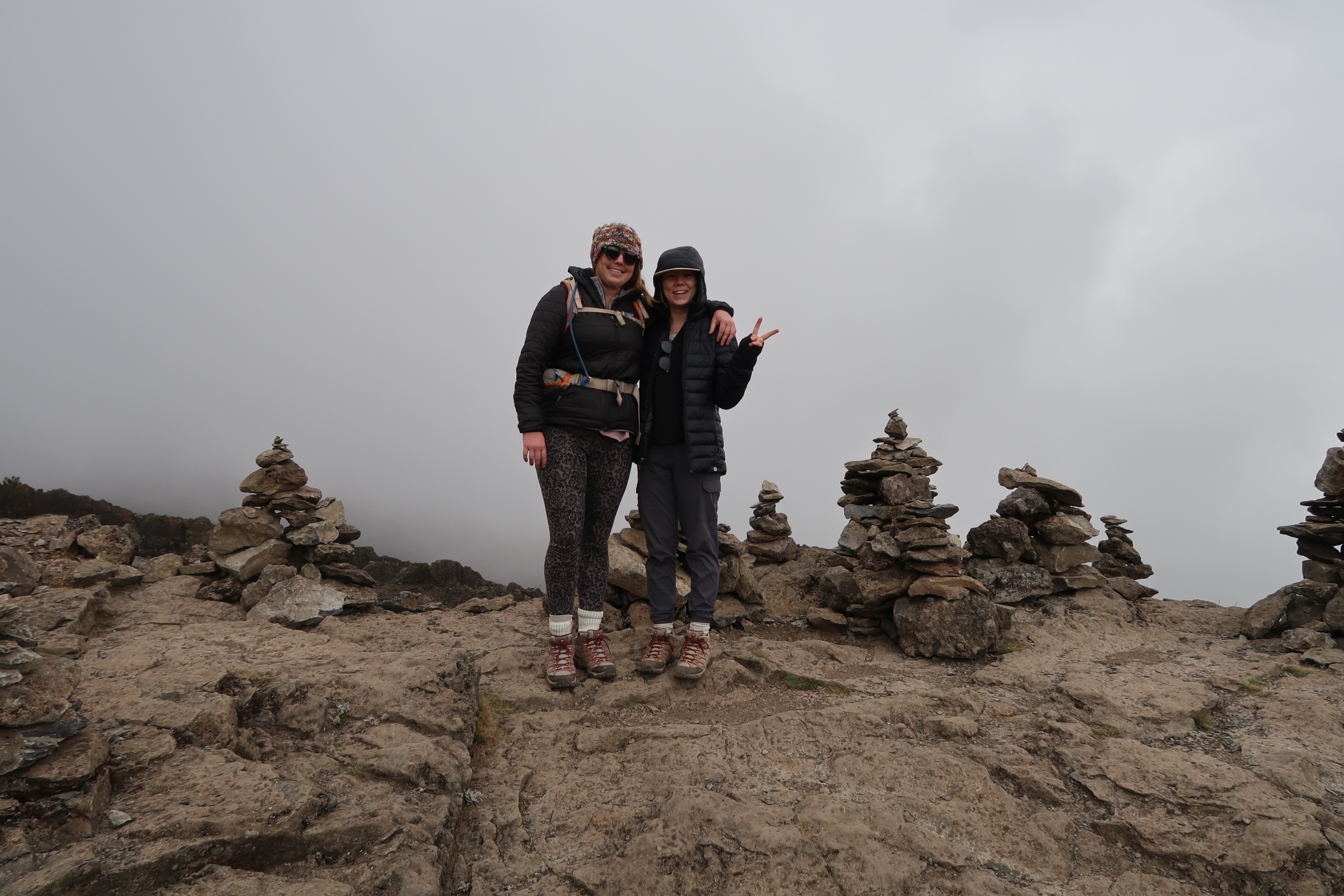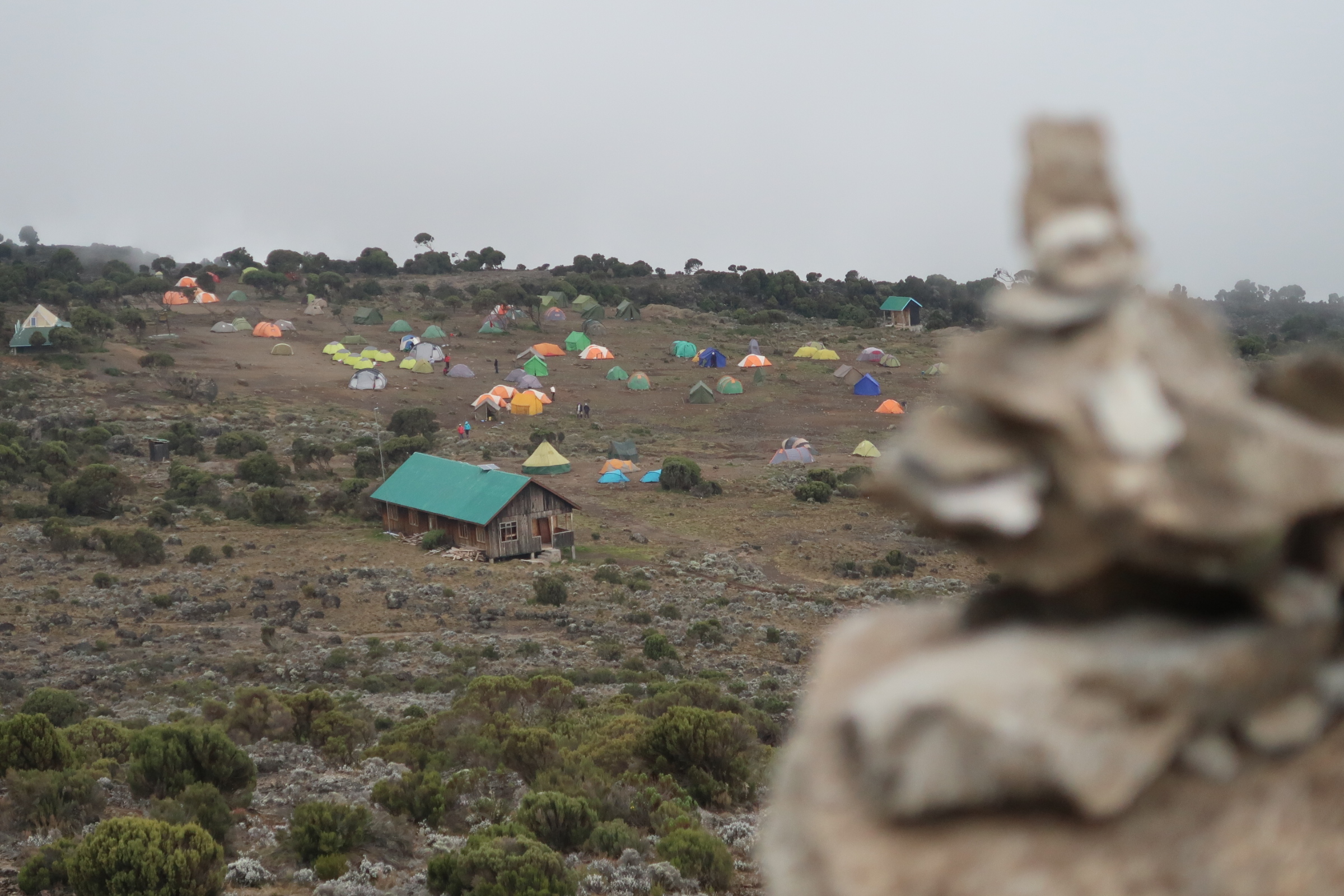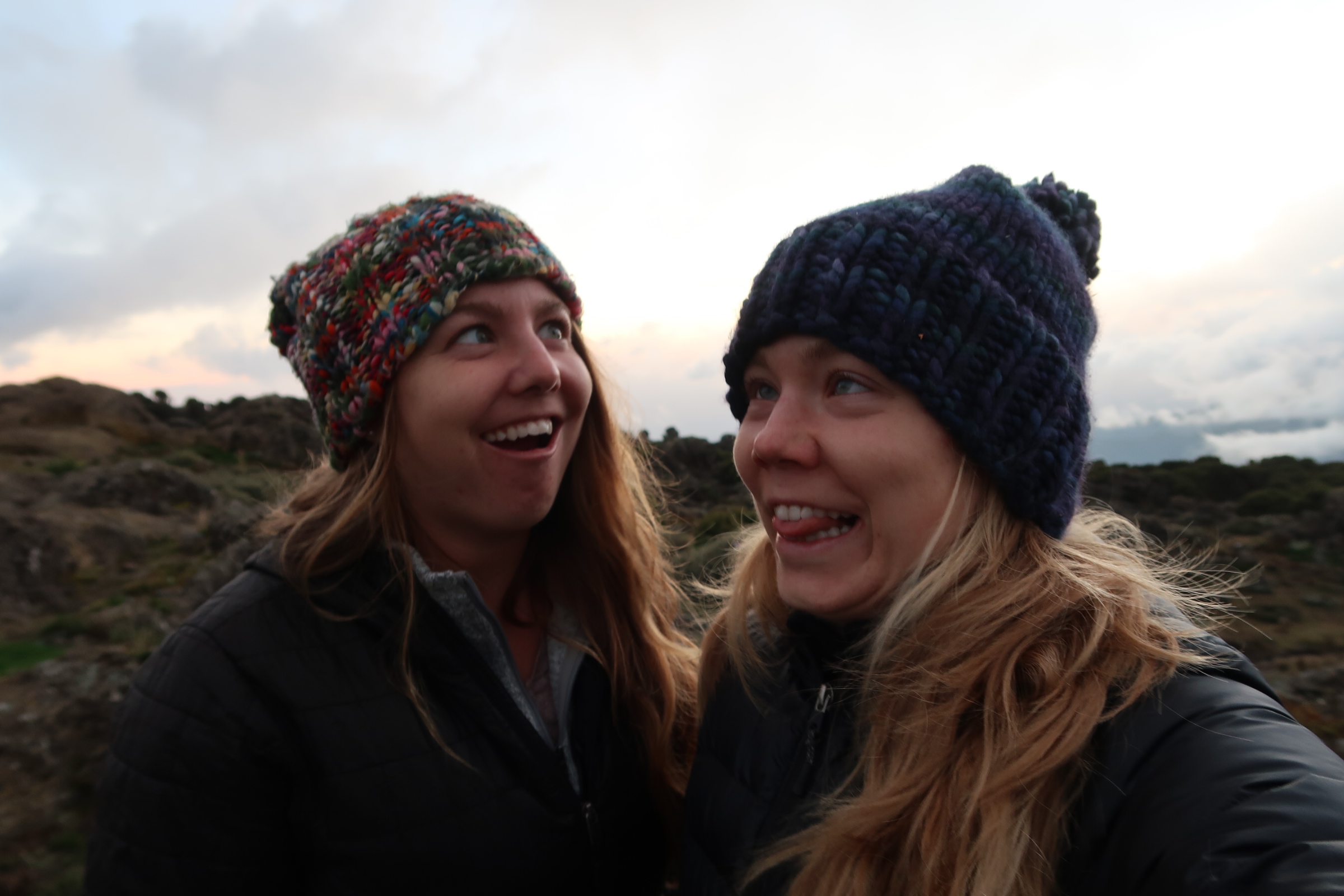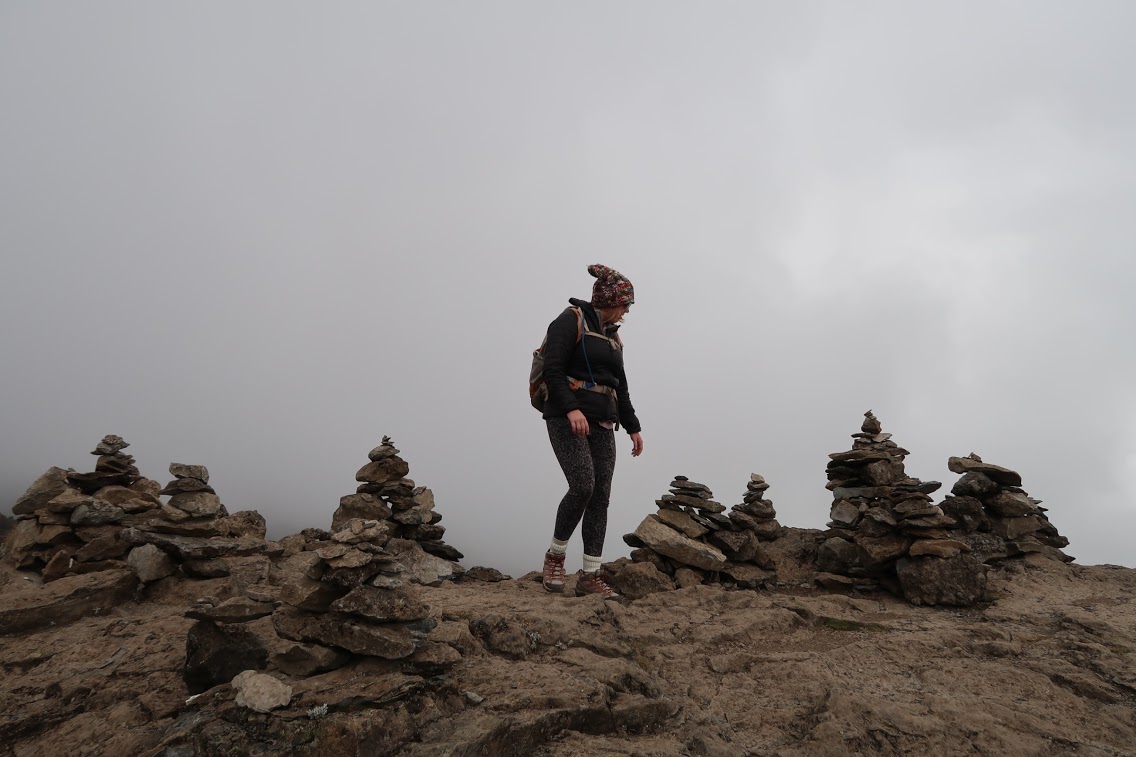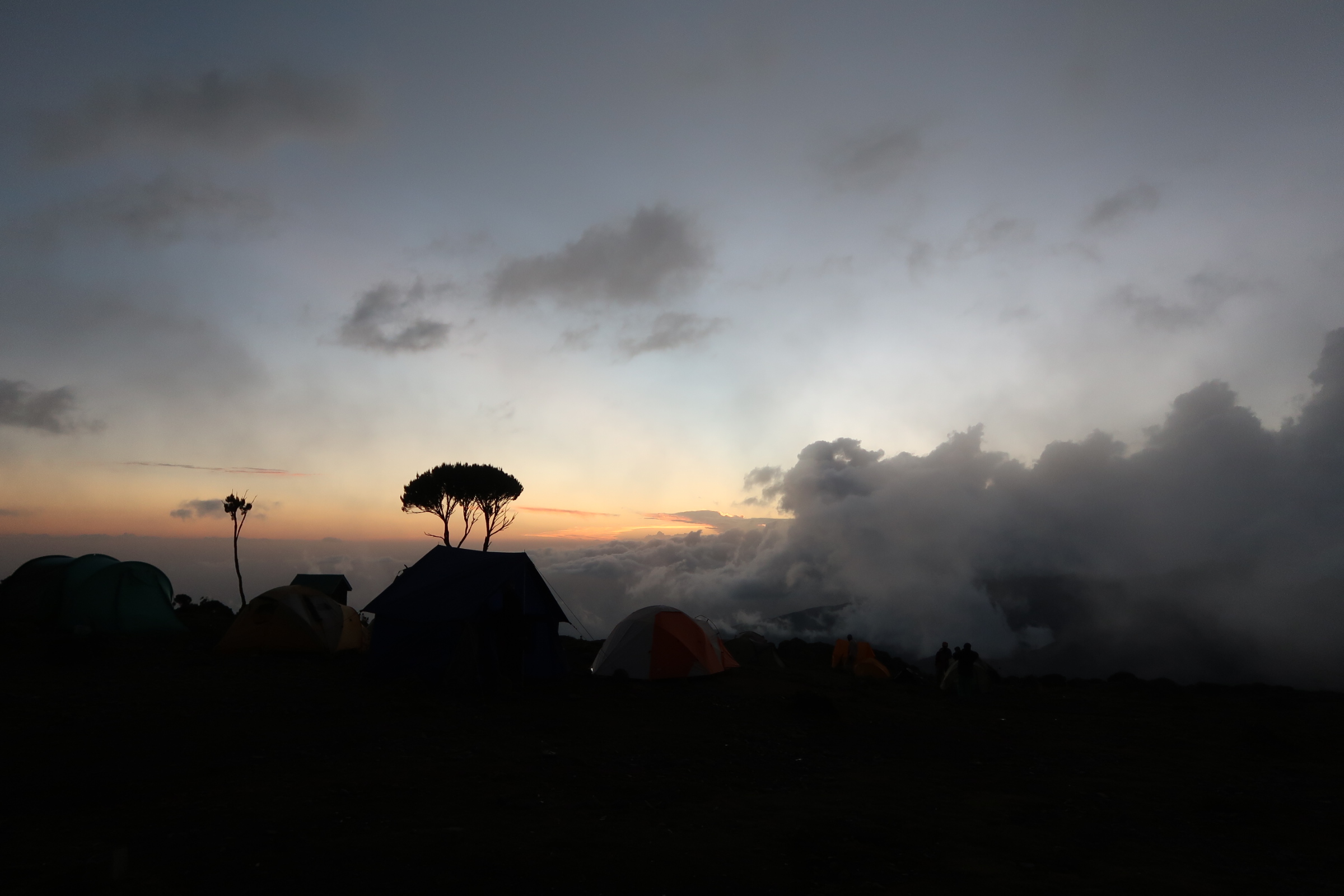 I added a few more words to my Swahili vocabulary list:
kazinzuri – good job
twende – let's go
kweheri – goodbye
ugari – stiff porridge
wali – rice
As the rain drops fell, I looked over at the colorful tents scattered across the campsite and thought how lucky I was to be here.
We got back and hung out with Joseph in the tent–we gave him a geography lesson and answered his questions about American culture. In return, he answered my questions about about Tanzanian culture.
For dinner, we had carrot soup, lentil bread balls, rice and peas and cabbage, sauteed veggies and mangoes for dessert.
The sun is going down and the temperature is dropping quickly. I can see my breath.
Day 3, February 17, 2018: Shira Camp to Barranco Camp
3,900m
Last night at Shira Cave Camp, I had a hard time sleeping because I was so cold. The porters say it is especially cold there. Tonight we are sleeping at Baranco Camp at 3,600m elevation. It is a little warmer here.
This morning, we left the camp around 7:45 a.m. We hiked 10k with the motto: "Hike high, camp low." It was a steady incline, though not as steep as yesterday. We were walking through clouds today and the terrain looked like a different planet–it is very rocky with small, scraggly shrubs.
Kash is keeping a great pace for us. We got to Lava Tower Camp after four hours. The porters passed us, of course.
Lava Tower Camp is 4,600m elevation, which is the same elevation of base camp (where we will sleep the night before we summit). We went down to a lower elevation after eating lunch. So even though we will only be at this elevation for about 45 minutes, it will help in our acclimatization.

Molly and I felt fine at the higher elevation, but we noticed that we started to breathe a bit quicker. We all had regular appetites.
We took out our trekking poles for the decline. We had hot chocolate, popcorn, and peanuts waiting for us as we arrived to camp. It felt so good to take off my boots because the downhill made them hurt. Molly and I took a nap after our snacks because we were exhausted. When I woke up, I had a headache. It is the first symptom I have had of altitude sickness. Ibuprofen doesn't seem to be working... though no worries, for it isn't a debilitating headache. I'm still very happy.
For dinner, we had butternut squash soup, noodles, and sauteed veggies, with donuts for dessert. I had a significantly smaller appetite than the previous days. Prosper and I had to force Molly to eat (he stood in our dining tent until she cleared her plate). It is important to eat full meals so that we have enough energy to hike. She said her stomach hurt. The good news: she took a donut into the tent and ate it in her sleeping bag.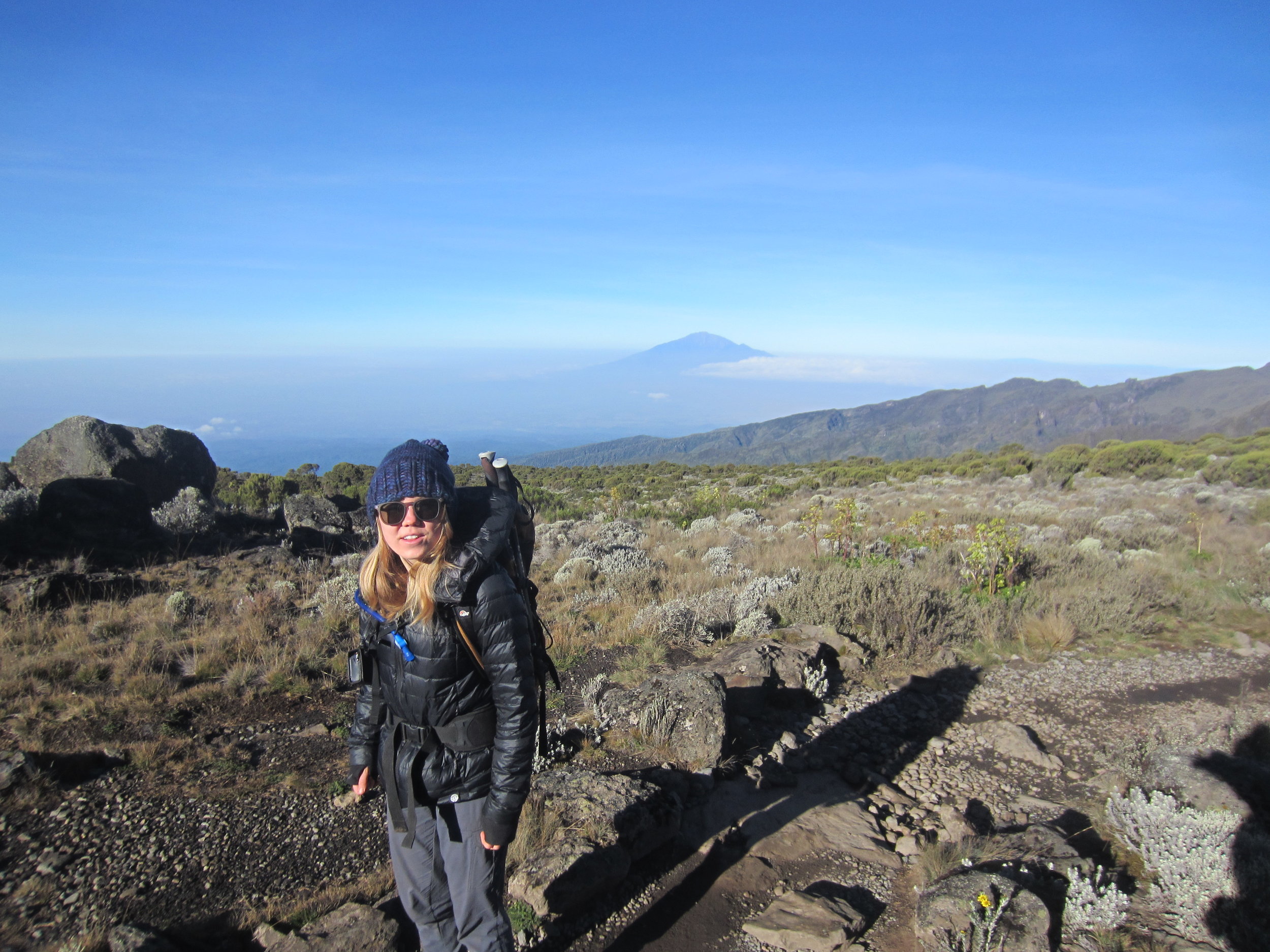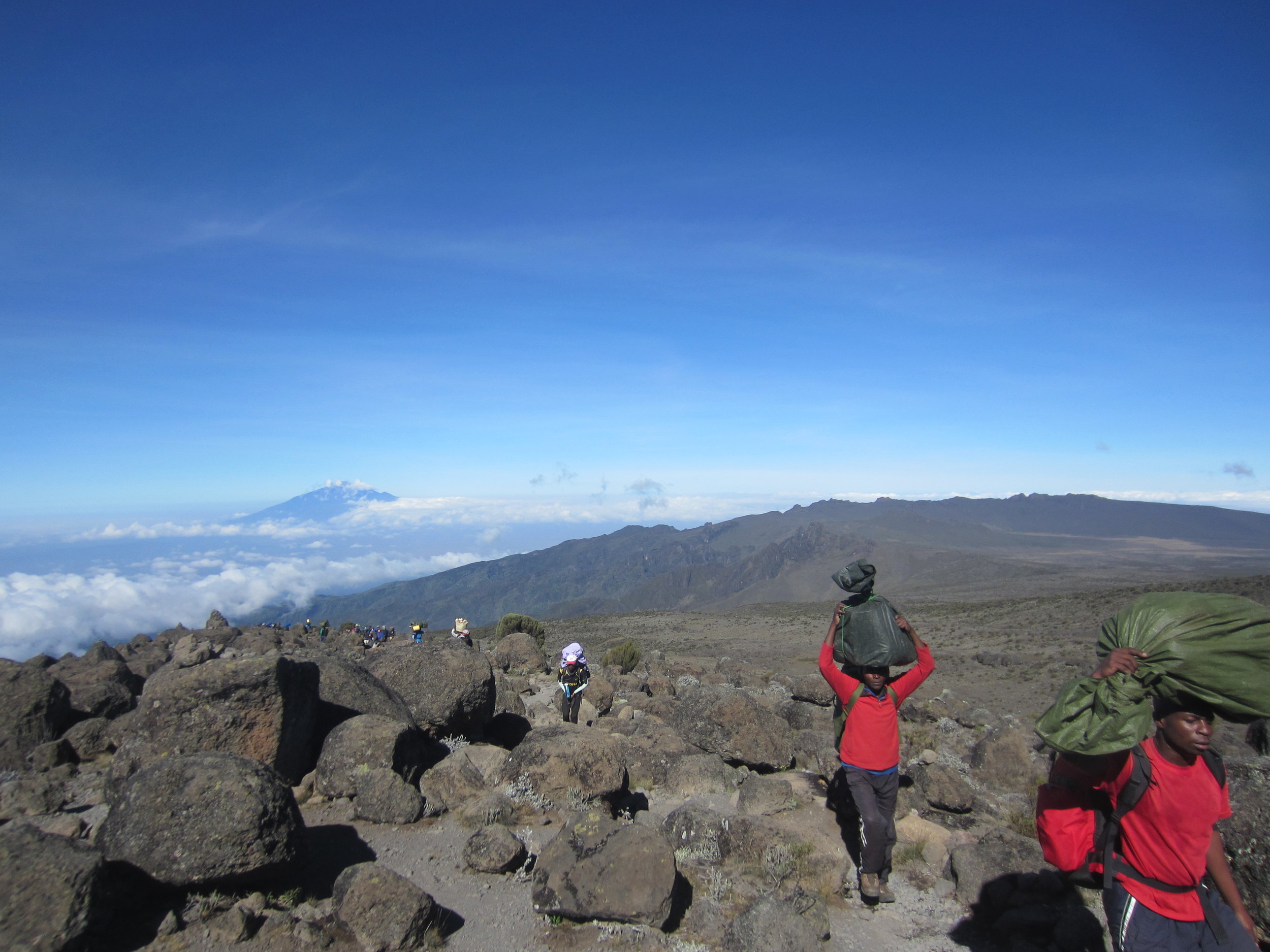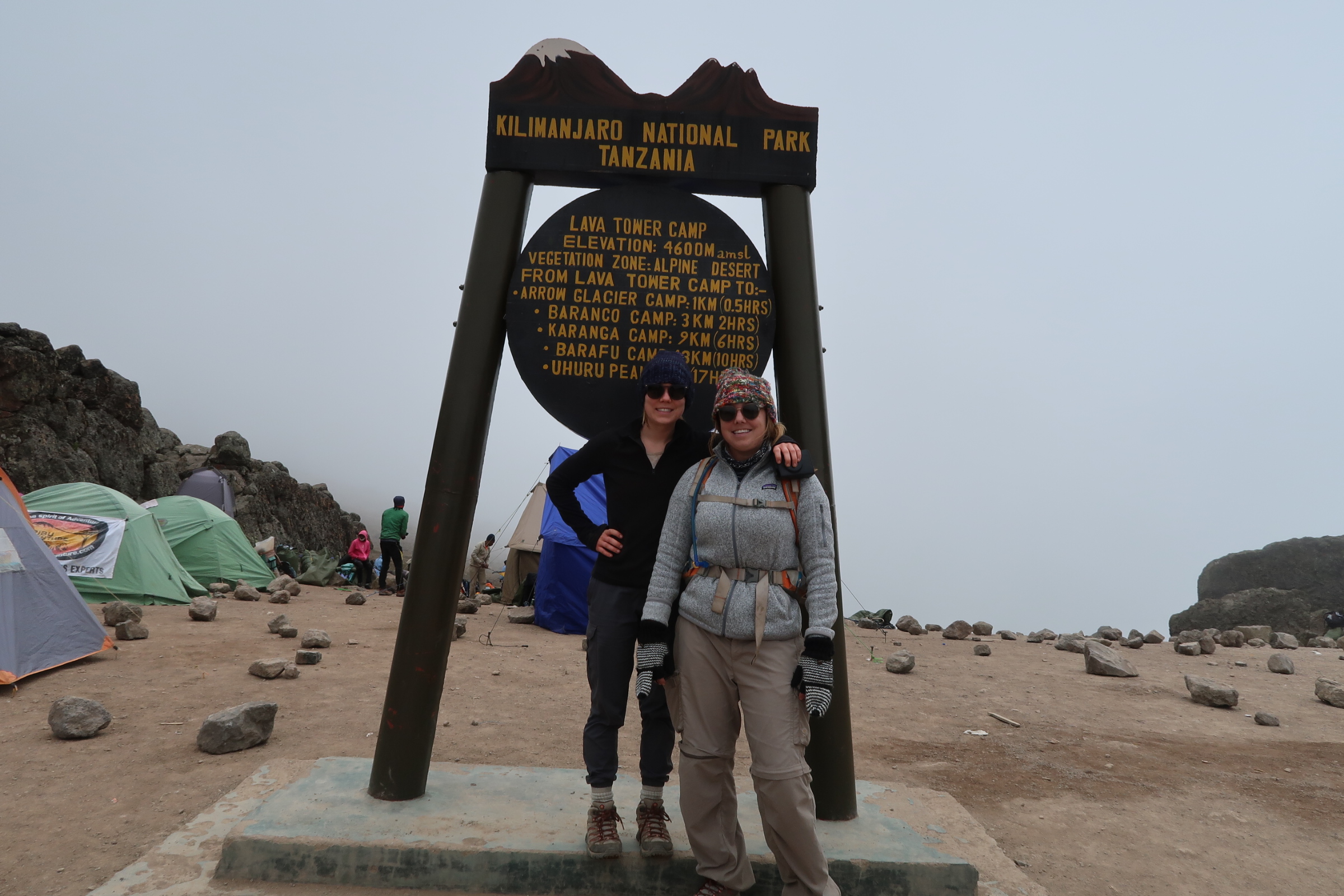 We are feeling toasty inside our sleeping bags now. The stars look beautiful. We can hear the porters belt out laughs that come from deep within their stomachs. We are feeling happy. We are feeling lucky.
Day 4, February 18, 2018: Barranco Camp to Karanga Camp
3,995m
The days are going by so fast!
This morning, we got to sleep in since we didn't have to cover much distance today. Samuel brought us coffee at 7 a.m. and then hot water to wash our faces. Breakfast was porridge, eggs, and hash browns. Foustein is the best cook!

We starting climbing the wall–it is so steep and has very narrow ledges. At one point, we passed "the kissing rock," where we were so close to the edge that we had to grab the rock close to our bodies as if we were pulling it in for a kiss. After two and a half hours, we made it to the top of the wall. I cannot believe how the porters did it. The 20-kilogram rule restricts the amount of gear they can carry on their backs. But most of them are carrying huge bags on their heads, in addition to their packs. I am so impressed. Kash said that this is the porters' hardest day on Machame route.
My favorite part of today was once we reached the top of the wall. Kash, Molly, and I took a selfie and goofed around. I asked Prosper to show me a traditional Tanzanian dance–he laughed and said it was too high of an altitude. It was great energy at the top as we enjoyed each others' company.


We had a lot of downhill today and I felt it in my quads (in combination from yesterday's downhill, too). When we were about two hours away from Karanga Valley, we started climbing up again. It's chilly in the clouds.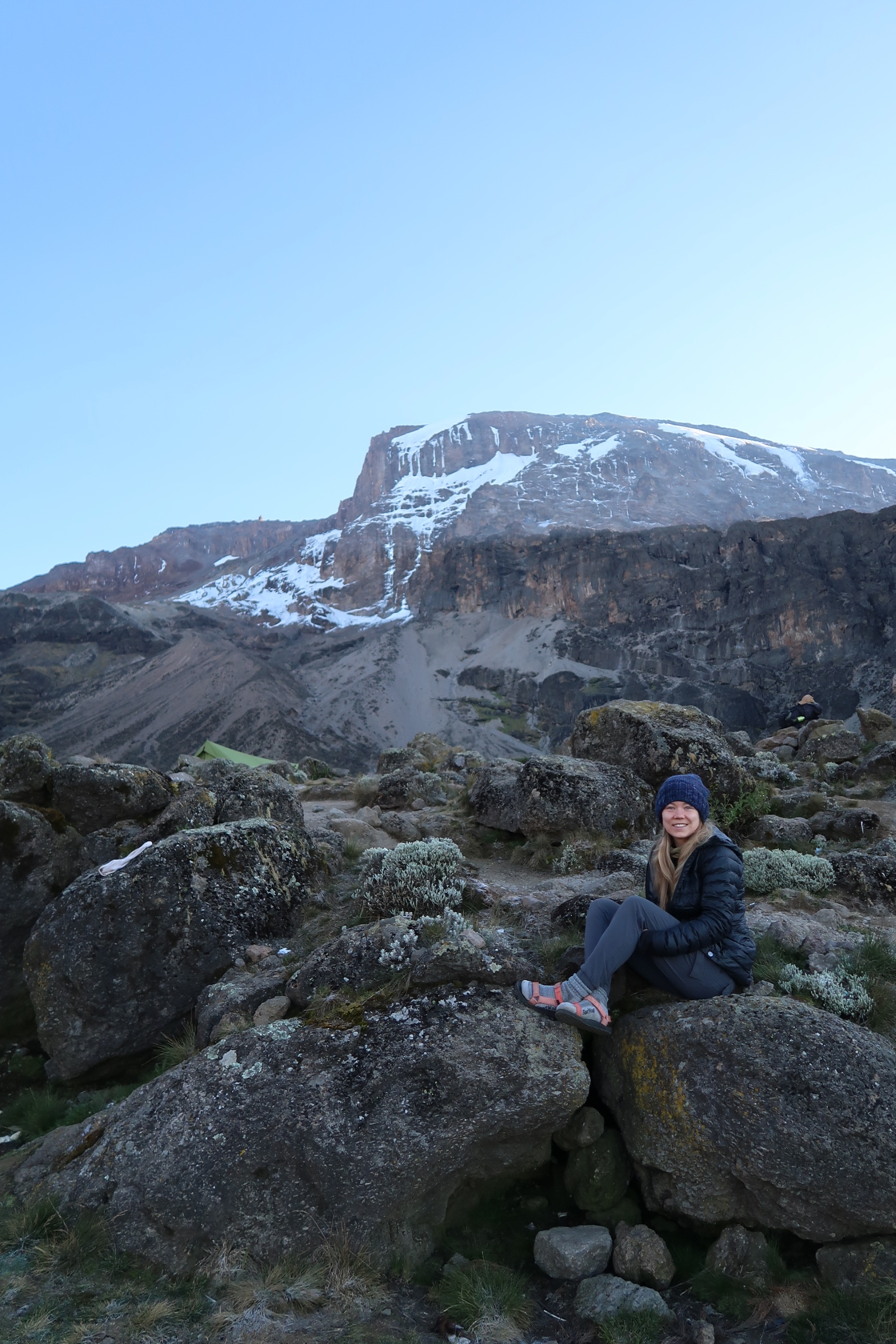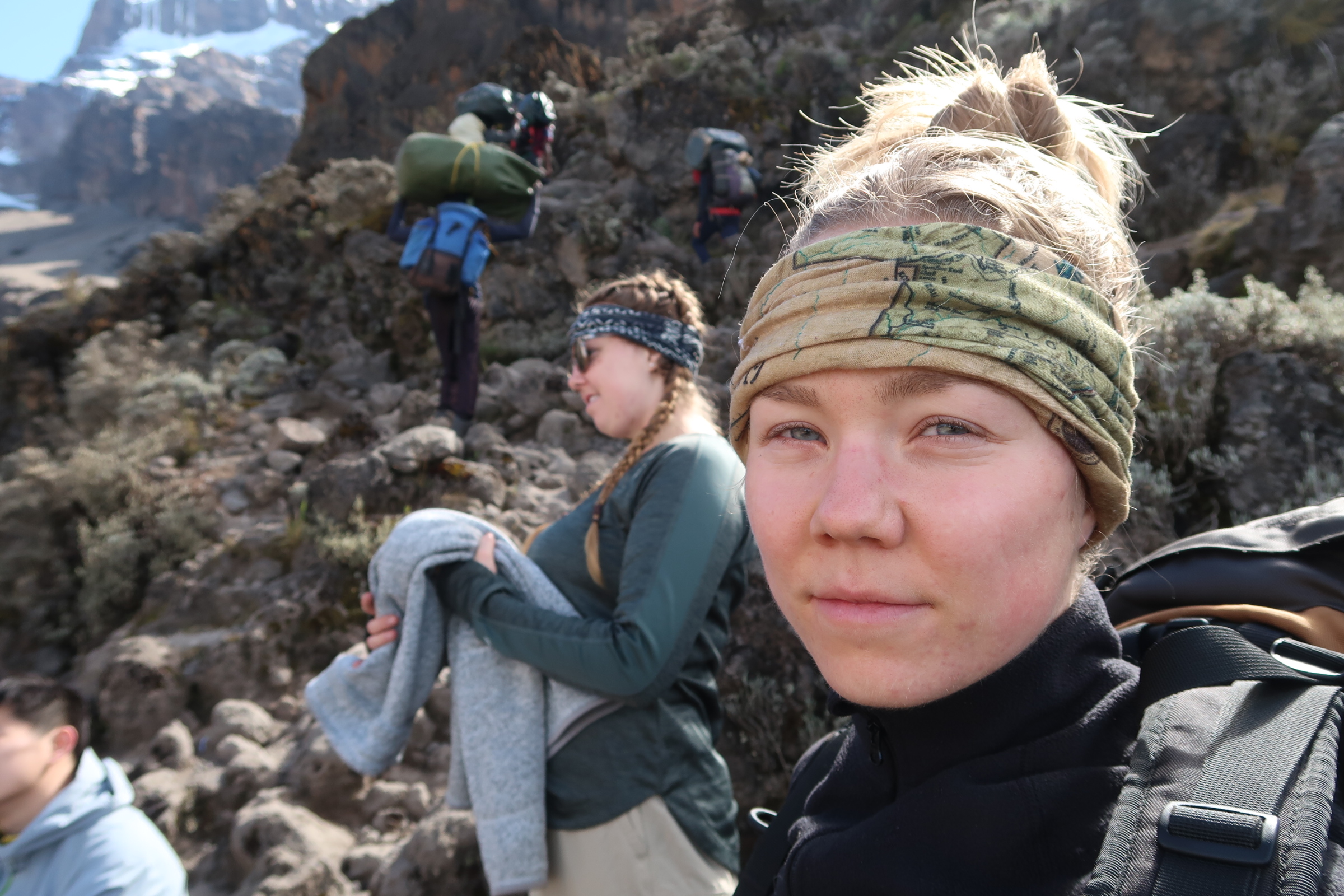 It started drizzling once we reached camp, so Molly and I hung out in our tent to stay warm. We don't want to go to fall asleep though because we want to be able to sleep tonight. Some other hikers are only eating lunch here and then headed to Barafu Camp. They will attempt to summit early in the morning. We, however, are taking it a bit slower. We will sleep here tonight and arrive at Barafu tomorrow. Part of me feels a bit lazy, but I trust Prosper. He is making decisions that will guarantee a successful summit. So far, we are taking it easy! But I know, the hardest is yet to come.
When we got to the camp, it was so foggy, we could barely see 10 feet in front of us. A few hours later, while chilling on top of a huge rock, the clouds moved. There was big, beautiful Kili right in front of us! Molly and I watched the sky and talked about anything and everything. I think it was one of my favorite parts of the trip. We couldn't see the peak from our spot on the rock, but it still looks like we have so much farther to go, even though we have climbed so high to get to this point.
Kash told me that this is the part of the trail where porters "re-stock." There is a shortcut up the mountain where porters from the bottom bring up a new supply of food to the porters already on the trail.
While relaxing in the tent, I accidentally leaned against my Camelbak, causing 1 liter of water to leak out onto my sleeping pad and bag. It sort of dried, but I might be sleeping on a damp pad tonight.
Day 5, February 19, 2018: Karanga Camp to Barafu Camp
4,673m
I woke up to pee around 3 a.m. and the stars were amazing. I grabbed Molly's camera and took a picture of the Big Dipper over Kili.
We had our usual coffee in our tent and I made Molly laugh so hard, coffee came out her nose. We left camp around 8 a.m. and had a steep climb to Barafu Camp. Yesterday and today were short days. When we arrived to Barafu Camp, we saw a lady lying on the ground getting oxygen. They said she was on her way down. Prosper assured us that she will be OK and didn't want us to be scared. We had a quick meeting to assess how we are feeling. We are now at 4,600m elevation.
For lunch, we had potato stew (with mango, which was so good). Prosper came into the dining tent to serve us the remainder of the stew, making sure we finished every last spoonful.
Then we had two hours to chill. It's so windy here and that's what makes it so cold. Molly and I feel good though. Afterward, Prosper and Kash took us on an acclimatization hike. We hiked for 45 minutes up the same route we will be taking at midnight. We went very slow and finally reached 4,900m elevation. I think we did a great job. It wasn't easy, but also not the hardest thing I've done. At the top, Kash gave us high-fives and Prosper said: "See? Easy! I wouldn't have been able to do it 400 times if it wasn't easy."
He told me that he wants me to stay in Tanzania to be a guide. I laughed and told him, I think I need more experience. Kash and Prosper showed us where we will make our first break tomorrow. If all goes well, Prosper said we will reach the top at sunrise. We all jumped and kicked our heels in the air, and headed back down to camp.
Molly and I had a great appetite. The "last supper" was pasta with a mushroom sauce.
We asked Joseph if he was ready. He said, "I'm gonna kill Kili, before Kili kills us!" Earlier in the day, when I said I was excited, he smiled and said, "don't be excited." I am excited and nervous.
Prosper told us about the hardest trip he ever had up Kilimanjaro. It took 19 hours to do what we plan to do in about eight and a half. He told us that he carried a large South African woman up to the top. She didn't want to give up to ruin Prosper's impeccable record.
Prosper reminded us that it is all about positive thinking. If we think it will be hard, we are only making it more difficult for us. He just came into our dining tent and answered all of our questions and gave us the plan for tonight. We will be woken up at 11 p.m., put on our layers and then meet for popcorn and tea at 11:30.
Day 6, February 20, 2018: Barafu Camp to Uhuru Peak
5,895m
We did it!!! We made it to the top of Mount Kilimanjaro, the world's highest free-standing mountain. It was the most physically difficult thing I have ever done.
We woke up at 11 p.m. and put on almost every layer we brought with us on the trip. From inside our tent, I heard Joseph yell "KILIMANJAROOOOOOOOO" outside.
I wore: 2 long johns/base layers; 1 pair of hiking pants; 2 pairs of socks; 2 thermal tops; 2 fleece jackets; 1 puffer coat; 1 raincoat; 1 balaclava; 1 wool hat; 2 hoods; 1 inner pair of gloves; hand warmers; 1 pair of ski gloves; gaiters. I could barely move.
We went to bed around 7 p.m. last night, so we had about four hours of sleep before we attempted to complete the hardest part of our journey. We ate some mango, popcorn, cookies and tea. Prosper helped put our gaiters on. Around midnight, we were off to conquer Mount Kilimanjaro.
On the open face rock (the section of the trail we hiked yesterday), I got so hot and took off one of my fleece jackets. But at the next break, I put it back on. I was freezing. We had what they call "good conditions." It wasn't that windy and not raining. It was snowing when we left camp, though, and there was a lot of snow on the ground on our way up. Prosper led, then Molly, then me, then Yichao, then Kash and Joseph.
At our first break, Joseph gave us tea, which was very much appreciated. My hands were so cold I could barely do anything for myself. Prosper had to help me get my water our of my backpack and open the lid. My water in my Camelbak froze, so Prosper helped pour some in my Nalgene.
My backpack hurt my back as we climbed up the steep incline. But I was determined to keep it on. Kash and Prosper had already taken Molly and Yichao's packs. Finally, at one rock that required me to get on my hands and knees (my four layers of pants didn't make it any easier), Joseph grabbed my pack for me. I swallowed my pride and was immediately much happier. I don't think I could have made it to the top if he hadn't helped me.
It was very cold and the climb was very steep. As we climbed, I kept my head down, staring at Molly's feet in front of me, and just focused on each step. I kept wishing for the sun to come up, knowing that when it did, we would be close to the top. We took two breaks before we reached Stella's Point. I was so happy to get there because after that, it's pretty much flat until Uhuru Peak.
Prosper, Kash, and Joseph sang most of the way. For most of the time, all I could focus on was moving my legs, let alone start singing. But at one point, Prosper called out each of our names and said, "Say Yeh-o!" I yelled back, "Yeh-o! Ay-ay-ay-ay-ayyyy!"
We hiked six and a half hours to get to the top. It was hard and snot was constantly running down my face. But it went incredibly fast. Before we knew it, we saw Uhuru Peak and the infamous sign in the distance. There was a giant glacier on the left that glowed pink from the sun peeking behind the neighboring mountains.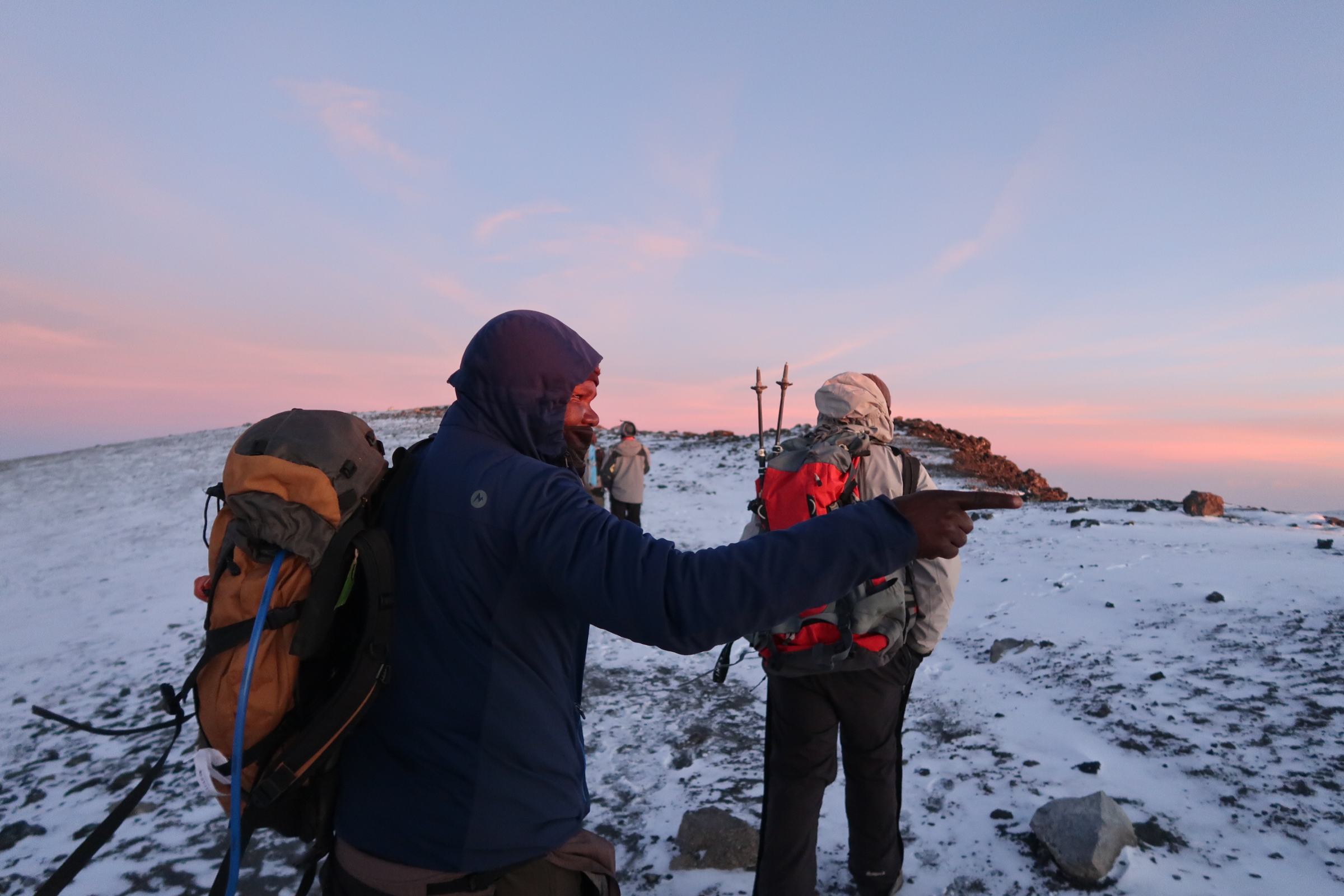 I hugged Molly from behind and asked if she was crying and she said yes "because she couldn't help it". We all started hugging each other, saying, "We did it!" It was an unreal experience that almost felt like a dream (the limited oxygen probably played a part in that). We took pictures quickly as we could and then we had to leave. We were probably on the top for no more than 10 minutes. We saw the sun rising and so many bright colors reflect off the snow and the crater.
We got down using a different trail that was covered in many inches of volcanic ash. It only took us two hours to get down. Joseph carried my pack and we slid down the hill. He urged me to go quickly.
On our way down, we stopped at Stella's Point again for a picture. We didn't have enough time at the top, but we wanted to take a picture while holding a picture of our grandma and grandpa from when they conquered Kili in 1993. They were our inspiration in embarking on this adventure (and always -- we love you G&G!)
About 15 minutes from camp, about five other porters met us on the mountain and brought us delicious mango juice and had a mini dance party. It was such a kind gesture and a beautiful moment.
Once we made it back to Barafu Camp, we got to relax for two hours (Prosper said it was our reward for making such good time. He said he was very proud of us). We were so exhausted. I packed my bags and had an egg-spaghetti concoction that was actually pretty good.
It was hard to move–our backs hurt the worst–but we still had to hike another four hours (downhill, thankfully) to get to the next camp. We were tired, but Kash told us stories as we walked, which made it much better.
Without fail, there was popcorn and tea waiting for us when we arrived to Mweca Camp.