Akore! Hello! and Tongasoa! Welcome! to my Peace Corps Crib! When I am not teaching at the CEG or playing with the neighborhood kids, I spend most of my time here. Please enjoy my tour of my home in Ambondro, Madagascar!
Mandroso! Come in!
My house is connected to the building currently used as a high school (though no official high school exists in Ambondro currently). It is also next to my counterpart, Josoah's office and his family's home.
My home is not located in the center of town, but certainly in a place with many people passing by. I can always count on having many visitors stop by to say hello throughout the day. Whether it is a student for a vocabulary lesson, little kids peeking through my window, or neighbors wanting to hang out, I'm rarely without company.
My house is split into two rooms. First is my office.
This is where I write my lesson plans, study Malagasy, hang out with friends and teach English occasionally. Upon arriving to my house, I painted a chalkboard that I use everyday. It has proven to be a great tool for learning new vocabulary - while I learn Malagasy, my guests learn English. I keep my tihy or straw mat in the corner to practice yoga or sprawl out on the floor. Using a tihy is a common custom in Malagasy culture when eating with groups of people or sitting outside.
In the other corner, I have my bike, given to me by the Peace Corps. I had big plans of becoming a professional cyclist upon getting to my site until I saw how much sand existed in Ambondro. That being said, I have yet to use my bike.
My post card collection is slowly but surely growing. So far I have messages from England, Yosemite, San Francisco, Barbados, the Jersey Shore, North Carolina, Lake Tahoe, Montpellier, Orlando, Brockport, Seattle and Long Beach and Long Beach Island. Help me bring different parts of the world to Ambondro and send me a post card - from the Sahara desert or your hometown, all postcards are greatly appreciated!
Before we leave my office, here is my wall of pictures that students have drawn for me. Some are from my 6th grade class where we learned different parts of the school and classroom. Others are from our Thanksgiving lesson. Some are just fun doodles.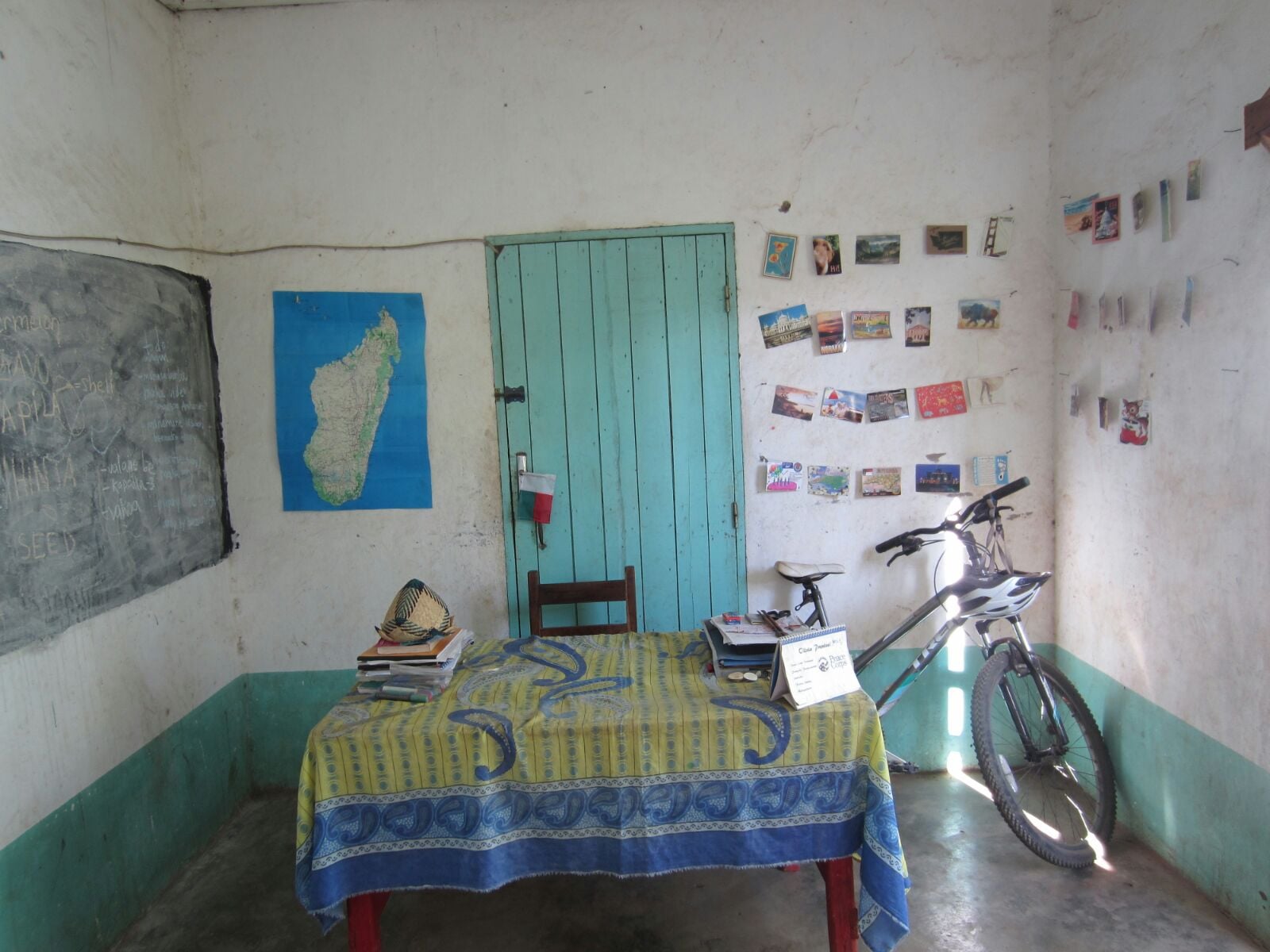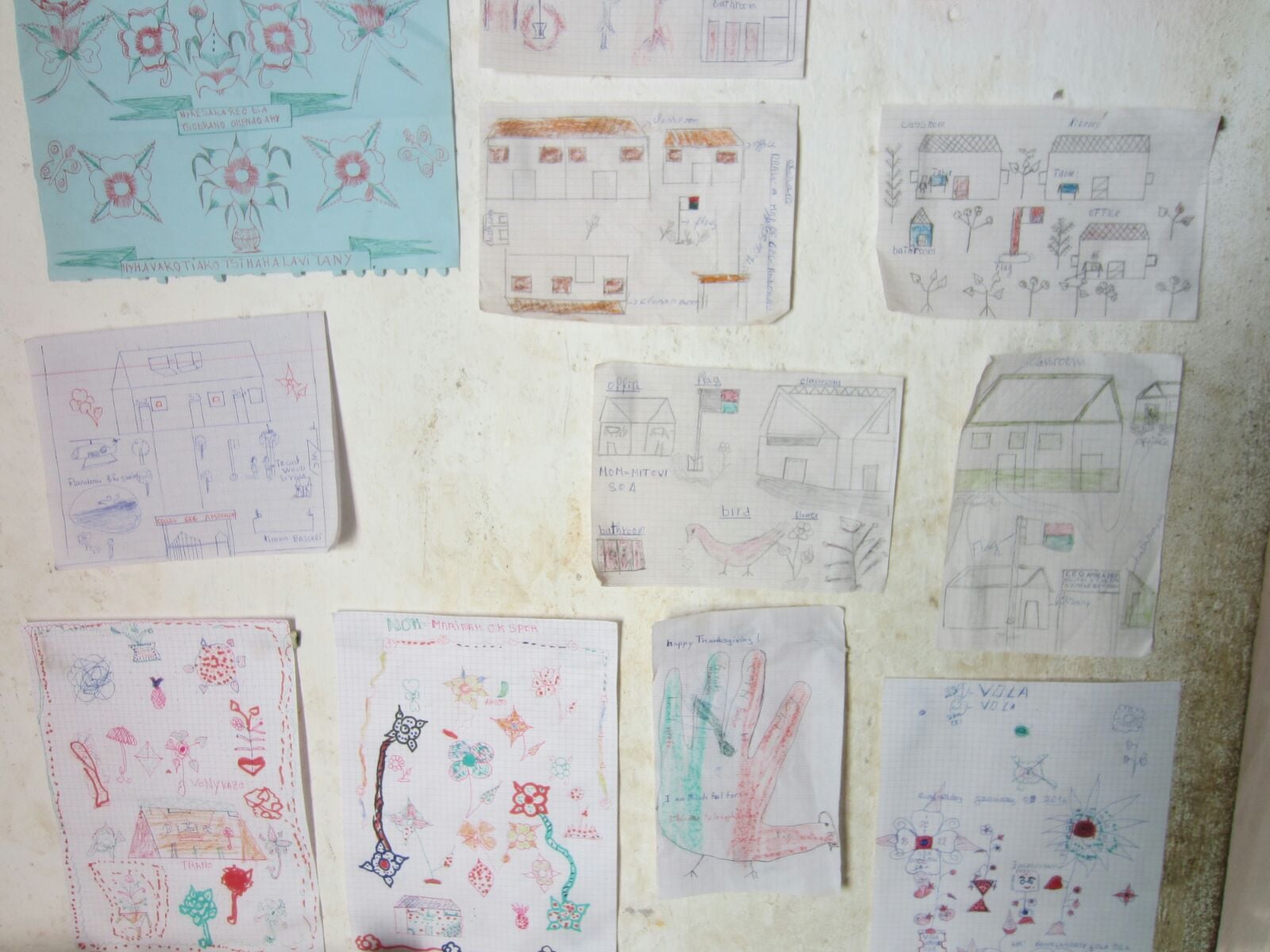 When it comes to home decor, its all about getting scrappy. Here is a picture I made with cardboard, leftover chalkboard paint, chalk and shells I found in Fort Dauphin.
Next, is my bedroom-and-kitchen-all-in-one.
While most people here use a charcoal stove to cook their meals, Peace Corps gives all volunteers a gas stove (for environmental reasons). Most mornings, I boil water for tea or coffee and cook eggs or buy bread on my way to school. When I don't have class, I'll grate some bageda or sweet potatoes (one of the biggest crops here) for some hash browns. After school, I will buy the fruit of the season - currently watermelon! Almost every night I cook rice with laoka or side dish, consisting of a mixture of the following: beans, tomatoes, onions, garlic or spinach-type leaves. There isn't much variety in terms of food in Ambondro due to the extreme drought, but we make it work!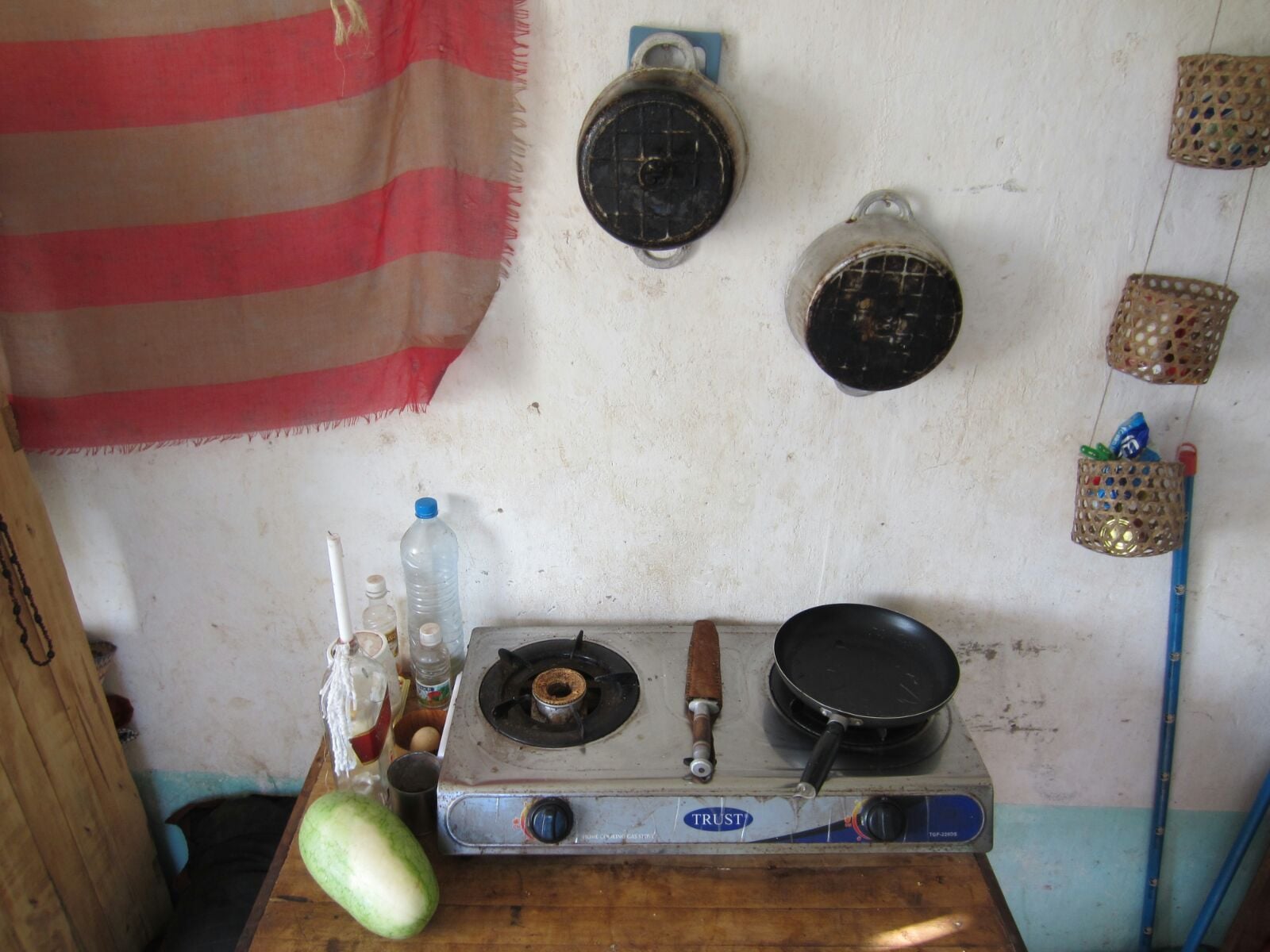 The large knife is the most used item in my kitchen. Its case is made of zebu skin and its handle is made of a zebu's horn. These knives are sold and used all over the Androy region and very resembling of its culture (there are a lot of zebu and Tandroy people make sure no part of the zebu gets wasted!)
Next to my stove is my candle that I use when the electricity goes out (on a regular day, I will get 4 hours of electricity powered by the wind), oil for cooking, sugar (Malagasy love their siramamy!) and honey that I can buy on market day. Butter is a luxury but can be found in some small shops.
Before drinking my water, I must filter it and then use sur eau. Though not expensive I must buy my water from a basin in the center of town. Water is very limited here and rain is uncommon.
Hanging on my wall is my straw hat that was weaved by a Tandroy woman. When walking home from the middle school under the burning sun and in 96 degree weather, I must wear a hat. If i don't wear it, cue: "Where's your hat?!" from everyone I pass.
I sleep under a mosquito net every night to prevent malaria (in addition to taking doxycycline). Despite a new mattress I brought when I moved in, the heat makes falling asleep a challenge. (Assume starfish position).
Here is where I keep my toiletries, clothes and books. Dresses and skirts are ideal because of the hot weather.
Connected to one of my windows is my ladosy, where I take my bucket baths, wash my clothes and hang them up to dry. I also wash my dishes on the window ledge and dump the water out this window.
Around the corner, you can find my kabone or my pit latrine.
And that marks the end of the tour of my humble abode. I hope you have enjoyed it. Thanks for checking it out - Veloma! Goodbye!