Traveling – in a magical, yet very practical way – redefines you. Each day is filled with new challenges. Vulnerability becomes not a choice but an inevitable blessing. You constantly find yourself in unfamiliar situations: exploring the market to find ingredients for lunch, fetching water for your bucket bath, bargaining for a live chicken, accepting a serving of cow's tail at the dinner table. In return, you are constantly learning. You instinctively become more accessible to others and more trusting. You attach yourself to the smallest acts of kindness as if your survival depends on it. And since everything around you is new, days are long. But you find the beauty in everything and with every setting of the Malagasy sun, you feel happy to be alive.
Less than three months ago, I packed up what would fit in one rolling suitcase, a backpacking backpack and one carry-on and hopped on a 15-hour flight to South Africa and then another 4-hour flight to Madagascar. In this short amount of time, I have discovered that this country is full of dichotomy — I wake up to beautiful sunrises and the smell of burning garbage. I am greeted by every stranger I pass as I walk through town *Manahoana* and provided with a friendly goodbye, *Veloma* (typically all in one breath). Many men walk barefoot with their cows obediently trailing behind. Often, many women effortlessly balance 30-pound bags of rice on their heads. Madagascar is a very poor and dirty country, filled with the most hardworking, welcoming people I have ever met.
I hope to provide a more up-to-date account of my time on this island throughout the next two years of my service. But for now, let me try to paint a picture of my first three months of training in the small town of Mantasoa.
After arriving at the Tana airport, we drove 3-hours along bumpy, dirt roads to get to the Peace Corps Training Center. We stayed there for two nights, learned some basic Malagasy and then we were off to our host families. Before I knew it, my sister, Miora and little brother, Aro were helping carry my heavy bags toward the smaller village of Masombahiny to meet Nenibe and Dadabe (Grandma and Grandpa in Malagasy). The walk was awkward and foreshadowed a lot of what was to come. Despite the friendly faces, when you barely speak Malagasy, awkward moments are inevitable. The first thing I did once getting to my new home, was take out a photo book, marked with the Malagasy words for "friends," "brother," "sister", etc. that I previously looked up in the dictionary. They really loved looking at my family and friends and a glance at what my life into American life. Plus, it helped pass some time. At this point, I could say very little in Malagasy — manahoana (hello), veloma (goodbye), inona no vaovao? (how are you?) and misaotra (thank you) were the basis of my vocabulary. Nenibe took it upon herself to teach me "tsy misy fisaorana" (it's no problem).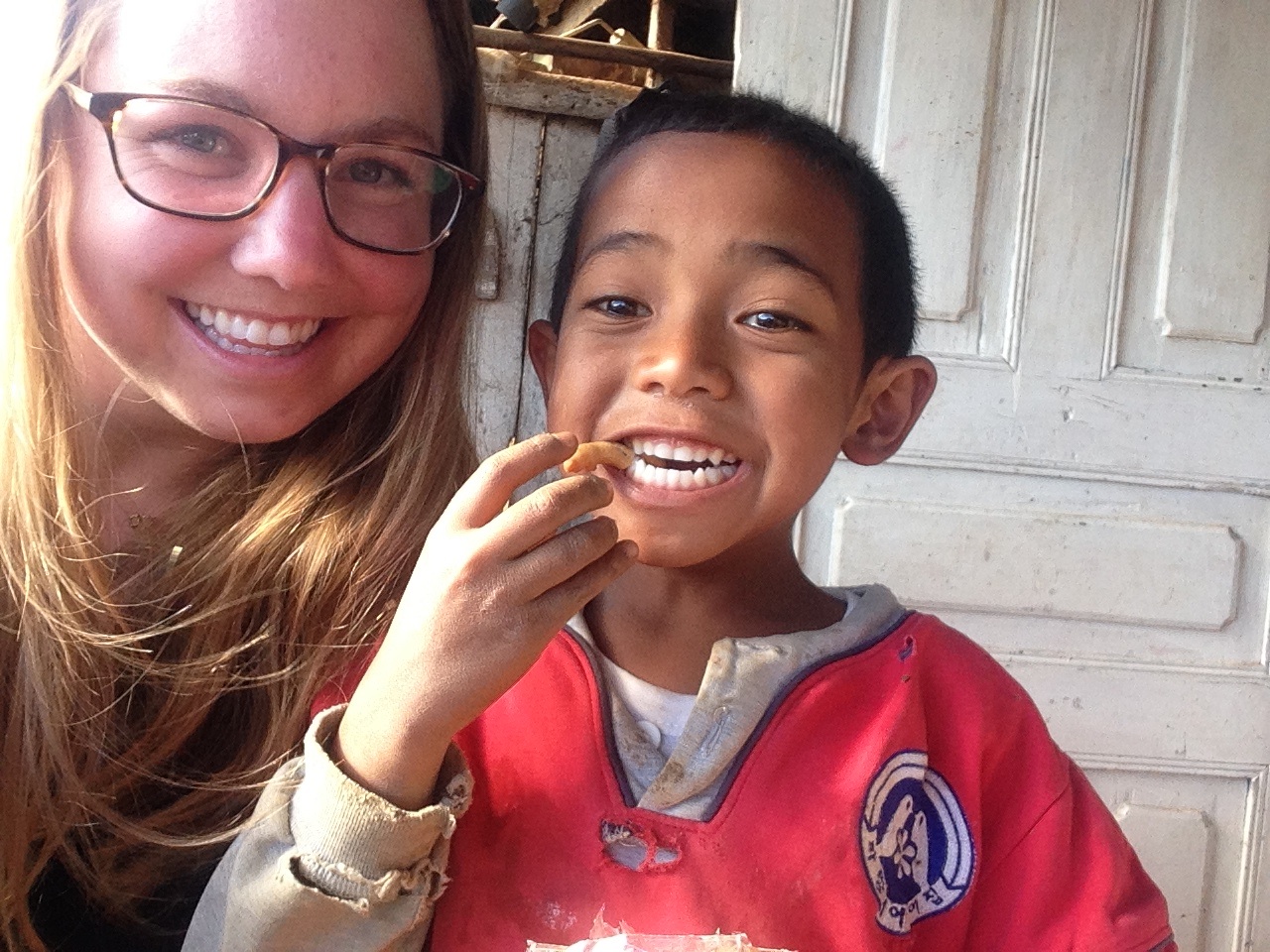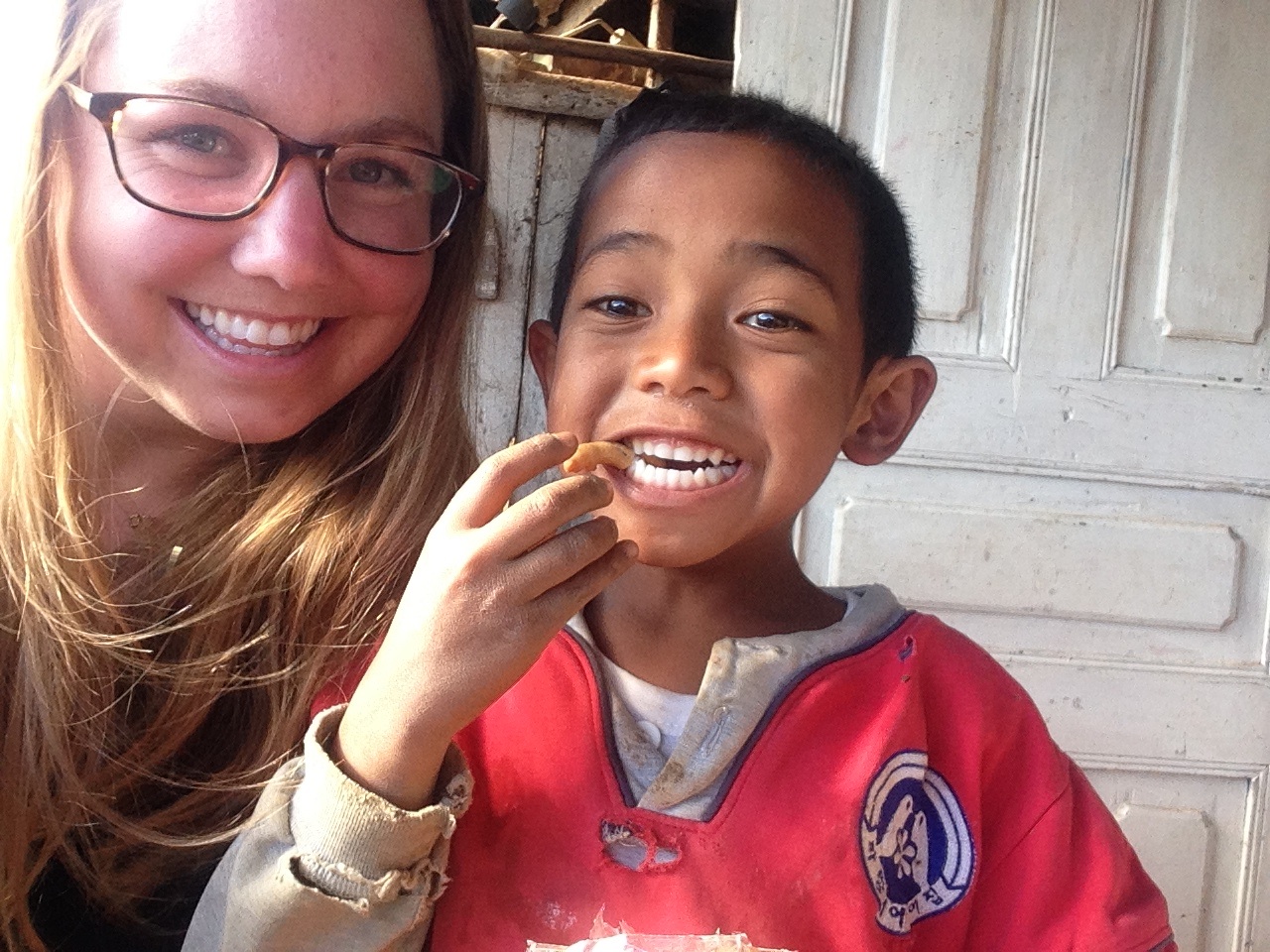 I quickly taught 6-year-old Aro how to play thumb war (which helped me practice numbers in Malagasy and taught him some English). It made me smile when four of his friends approached me with their hands out, ready to play, the next day.
When I didn't understand something my family would say, I used a smile and a laugh to dissipate the awkwardness. Despite the fact that my family knew no other English than "hello," "tomorrow," and "for you," we bonded over the universal language of kindness. Body language initially dominated our conversations. They were so patient with me. Sometimes after dinner, Miora would give me Malagasy lessons – she would act out a Malagasy word or use it in a sentence and I would provide the English translation and she recorded it in a small notebook.
At first, a small understanding between us was celebrated. When I used a basic Malagasy word, Nenibe and Dadabe would often become very excited and cheer, "Efa mahay!" signaling that I was very good at Malagasy (which never failed to make me smile). Eventually, we shared conversations about our families, Malagasy culture, American culture, geography and religion.
Religion played a big role in my Malagasy home. I went to church more times in the 6 weeks living there, than I had in the last 10 years of my life. Nenibe often told me how important she thought praying was and how she uses the power of prayer to help her family. I'll never forget the time Nenibe told me that she prays for me as if I am her own daughter.
I formed a special bond with my sister, Miora as her enthusiasm to teach me Malagasy culture and language never wavered. She woke up around 5 a.m. everyday and biked over two hours to school to teach, then came home and started cooking dinner and did chores inbetween. Regardless, she always had a smile on her face and was constantly joking around.
My time living with my fianakaviako Malagasy was filled with many "firsts." With each day, I learn something new or learn to look at something familiar in a new way.
June 13: I went to the bathroom in the kabone for the first time, which quite literally is a deep hole in the ground. I also peed in a "po" for the first time. A "po" is a plastic bucket, with a lid, kept inside your bedroom and is used to go 1 or 2 once the sun has gone down. You empty and clean it in the morning. I often worried that Nenibe and Dadabe would hear me using the "po" from the room over but this proved to be the first of many instances where I learned to swallow my pride.
June 14: My first bucket bath! I fetched water from the water pump, 70 meters from my house, and did my best to clean myself by pouring very cold cups of water over my head in the "ladosy" adjacent to my house.
June 21: Miora helped me wash my clothes, which turned into a very long process that required multiple rinses and trips to the water pump. Dadabe and Nenibe got a good chuckle after I took a picture of my colorful undies hanging up to dry for all of Masombahiny to see.
June 22: Bargained for a live chicken at the market using only Malagasy! Before deciding on a chicken, many vendors were shoving chickens in my face, arguing that theirs were the best.
June 25: My first of 3 birthdays in Madagascar. Birthdays aren't big celebrations for Malagasy people, but Nenibe knew that they were special to Americans. I woke up and walked downstairs to receive a big hug from Nenibe and Miora and a handshake from Dadabe. I was served cookies for breakfast. Dadabe and Nenibe gave me a "sahafa": a small straw basket/bowl that is used to sift the rocks out of rice.
July 1: My first time laughing because something was genuinely funny (rather than filling awkward silence). It might sound terrible that my first genuine laugh was almost after a month living in-country, but it's not to say that I wasn't happy before this occurrence. Simply said, traveling with 26 strangers, in a country where mundane tasks are completed in vastly different ways than what I am used to, while being unable to effectively communicate with others, allows for a lot of getting used to. This laugh marked the development of true comfort. I distinctly remember this moment because in my eyes, it was also a true milestone in my proficiency of the Malagasy language. And, it felt so good to share a hearty, solid laugh with my Malagasy sister. It started when we were around the dinner table, when we were talking about Nenibe's love for rabbits. (She has eight in her bedroom). I asked Nenibe how many bunnies there were and she told me there were five and three parents. Obviously, my next question was how many female rabbits there were and when Nenibe told me two, Miora and I immediately looked at each other and started cracking up. My first genuine laugh with my Malagasy sister was about Nenibe's dada rabbit gettin' some.
July 21: Today, I taught my first English lesson to a class of Malagasy students. In the weeks to follow, I taught 2-hour lessons in English with topics ranging from "Air Travel" to "Women's Discrimination in the Workplace" to students ages 10 to 18. It was a challenging but rewarding experience.
July 22: Never thought the day would come, but today was the first day I thought: please no more cookies for breakfast. Malagasy typically eat rice for breakfast, lunch and dinner but Nenibe, being the selfless and thoughtful woman that she is, tried to mix up the menu. We occasionally ate pasta and veggies for dinner and sometimes they made French fries. Little did she know, Americans do not eat cookies for breakfast.
July 24: I ate cow's tail for the first… and last time. I politely accepted a small piece of "rambo omby" and found it very difficult to cut through the rubbery meat surrounding the cartiledge. Once I found remnants of cow hair on it, I decided it was time to give up.