My feet have never been so dirty.
After a simple stroll in my flimsy flip flops through the sandy roads of Ambondro, I return home with feet the color of dust. Multiple scrubbings a day become fruitless: there's no escaping the sand. With sand, comes fleas—it's a two-for-one deal. As I sit on the straw mat eating cassava with my friends, Lahialey suddenly notices a flea burrowed in my big toe.

"Got a safety pin?" he asks the woman next to us, nonchalantly. She hands it over. Lahialey begins to dig out the small bug from my foot. When he's finished, he holds the flea and some of my skin between his forefinger and thumb.

"Want to hold it?" I squirm and he tosses it to the ground. Without hesitation, Monja, sitting to my right, coats my toe with ash to prevent another unwelcome visitor.
I have never sweat so much in my life.
I wake up at 4:30 a.m. to run, hoping to avoid the strong rays of the southern sun. I come back with my clothes drenched. My glasses fog up as drips of sweat roll down my forehead. After a bucket bath, I'm off to school. I feel the sweat form on the nape of my neck and linger on my upper lip, as I teach 80 Malagasy students squeezed into one small classroom.
I have never cared so little about my physical appearance.
Each morning, I brush my teeth, apply sunscreen, brush my hair and I'm good to go. (Long gone are the days of mascara, eyeliner and tinted moisturizer). I've adopted the "four-eyes" look indefinitely to prevent the potential eye infections by wearing contacts.
And despite all the filth – never in my life have I been called beautiful so many times.
There's no hiding when you are the only white, blonde-haired, blue-eyed girl in a small rural village in the deep South of Madagascar. During my first month adapting to my new home, I was met with a lot of curious stares, everyone wanting to know who exactly this white girl was and what I was doing here. Luckily, I was graciously welcomed into their village.
Mamasabo grabs my hand and invites me to try her habobo – a popular drink in southern Madagascar, which in essence is curdled milk. I hesitate, not wanting to offend this gracious woman, yet at the same time, trying not to throw up. A crowd gathers around us. Sensing my uncertainty, Oline, my fourteen-year-old neighbor, swallows a spoonful of habobo, as if to give me an example. All eyes turn to me—now it's my turn. Just as the spoon of chunky white milk curds meet my lips, the wind blows my hair across my face. I pull my blonde hair out of my mouth, now coated in habobo, feeling like an absolute mess. Oline gently pushes my hair behind my ear. I feel embarrassed, but the feelings are my own.
"Ampela soa," my new friends say. Beautiful girl.
Students from the middle school form a line to the left and right of me, building a barrier across the sandy road as we walk to school together. We practice English, but talk in Malagasy, too. When I don't understand, I apologize and smile. They smile, too and reassure me.
"Ampela soa." Beautiful girl.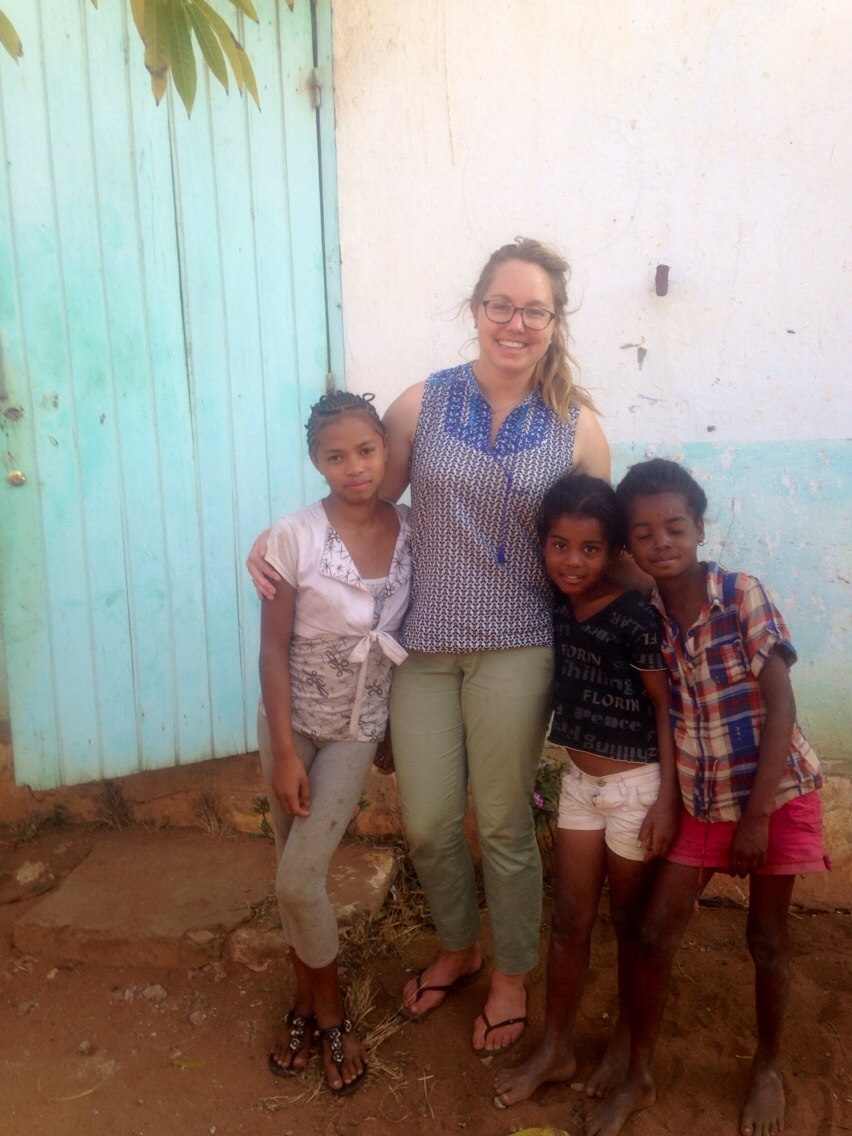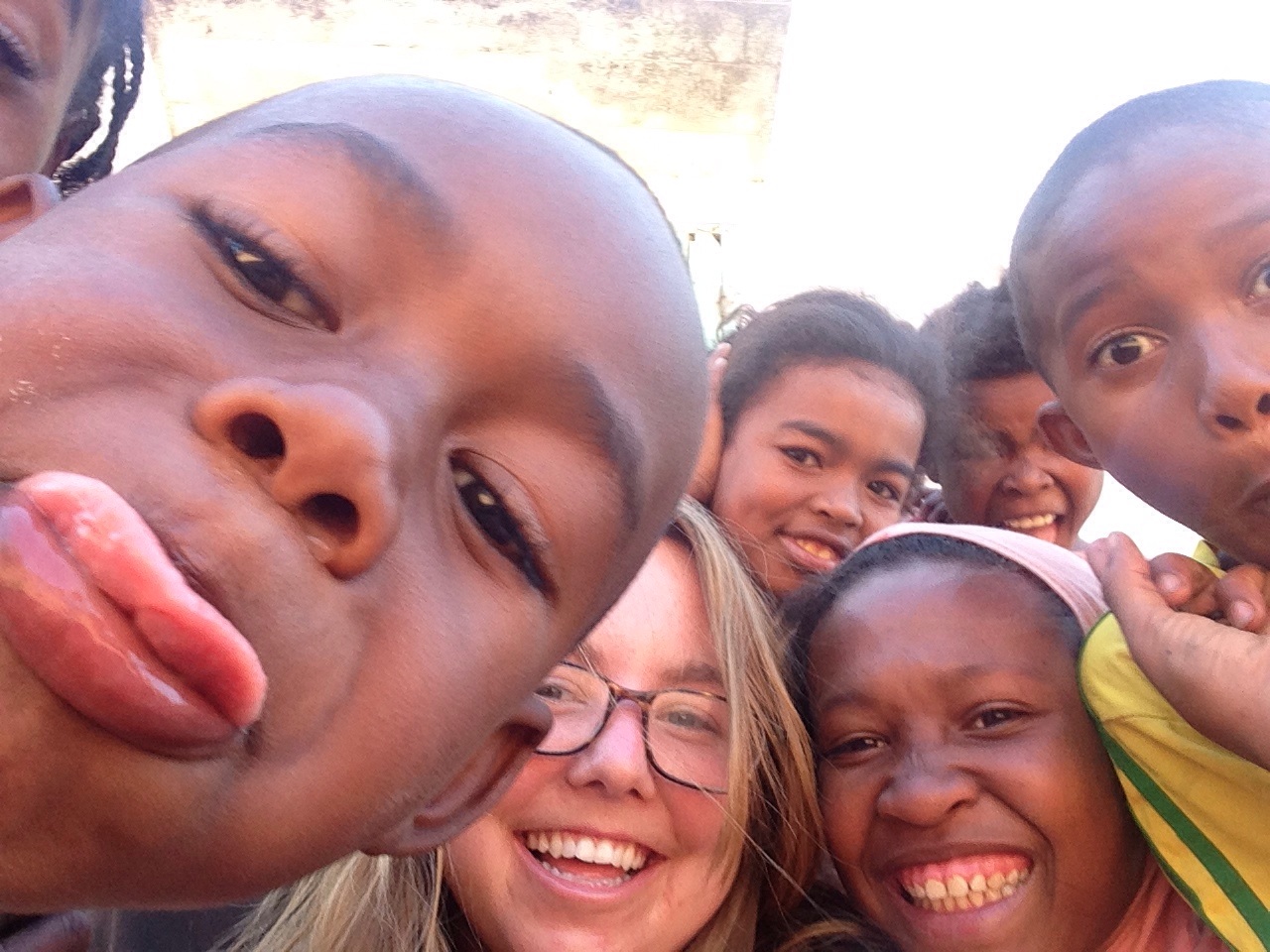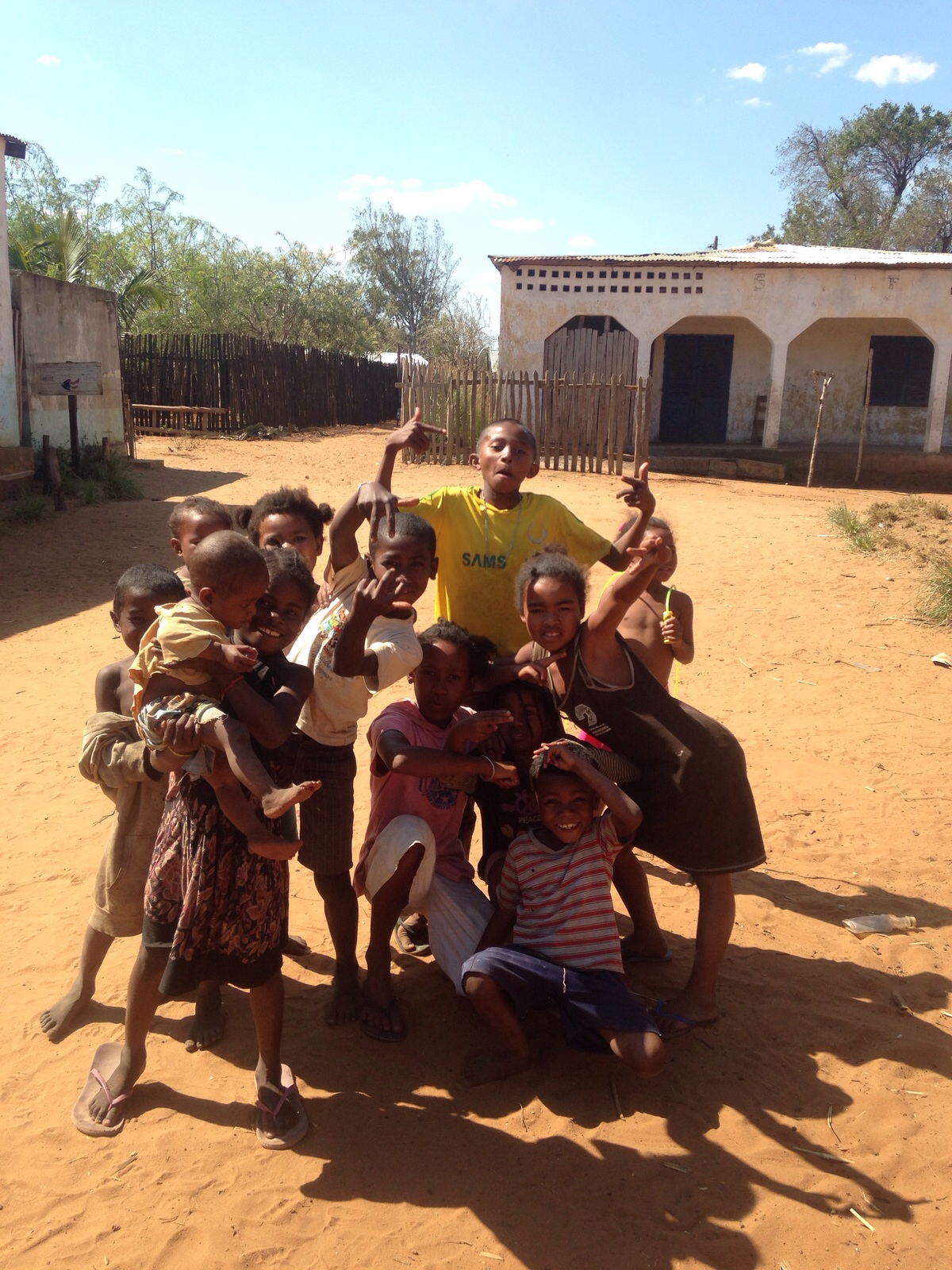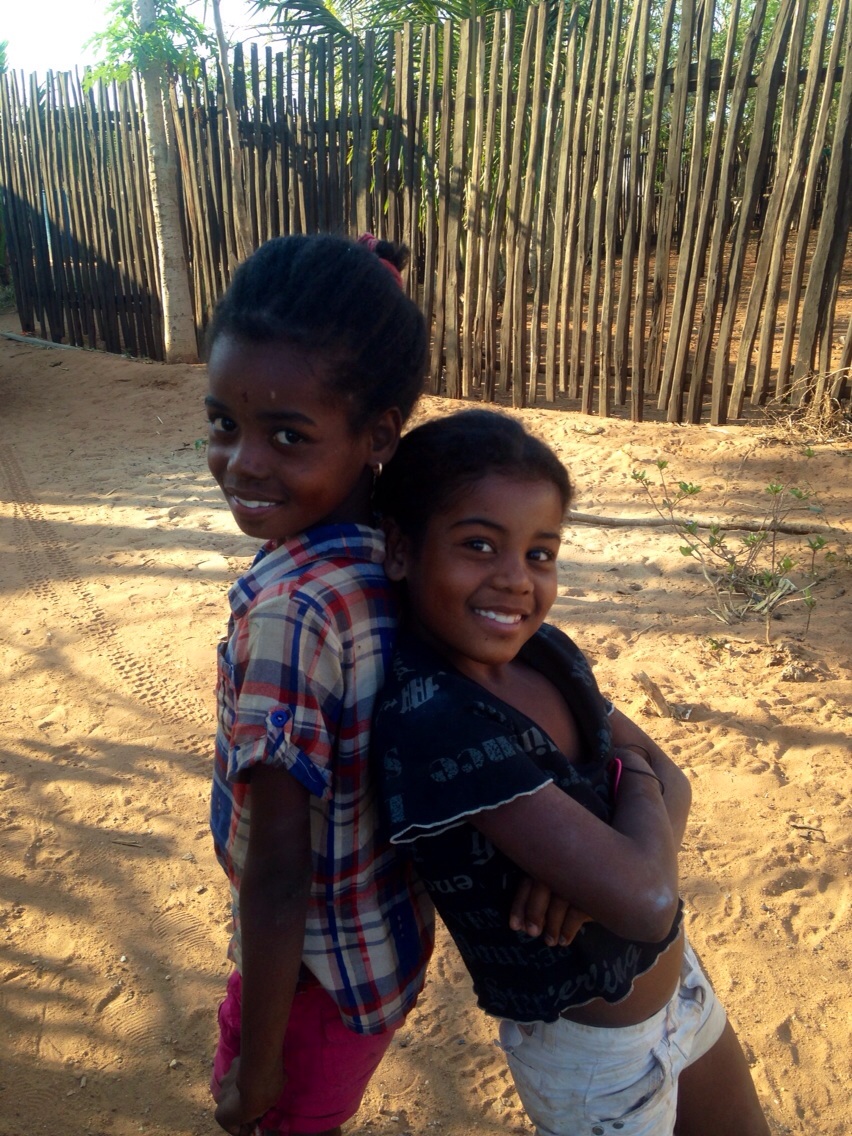 Cheers of approval come from the sweet potato vendors in the center of town, sheltered under the shade, as they catch a glimpse of my braided hair. They are so surprised to see a white girl with a Malagasy hairstyle.
"Ampela soa!" Beautiful girl.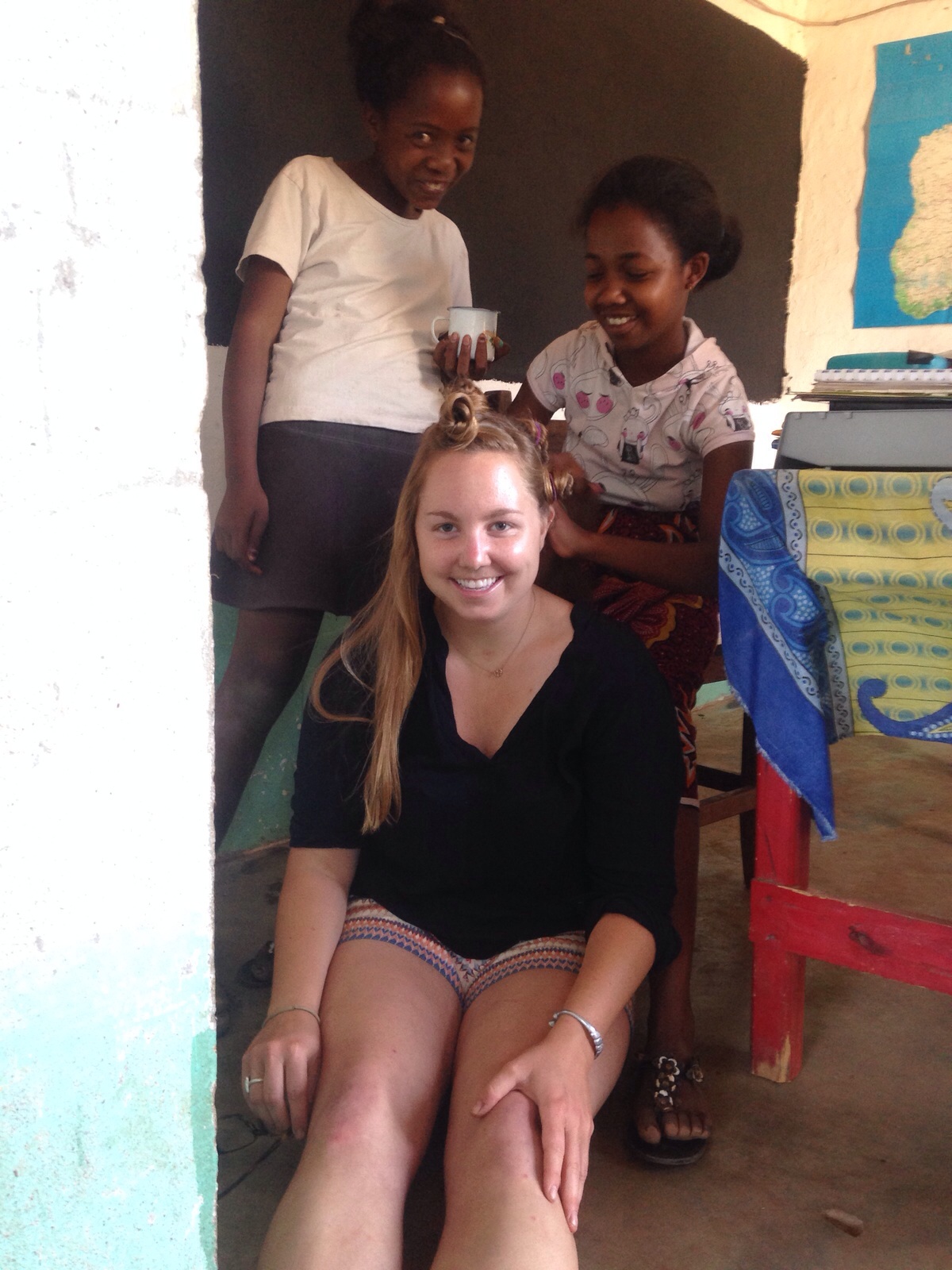 Curious kids peek their heads through my window. First I only see their eyes, then they slowly raise their heads. They ask question after question and I smile, appreciating the interaction. When I don't understand, they give me examples, eager to teach me their language. Before they leave, I hear, "Ampela soa!" Beautiful girl.
Strangers squatting next to their pots of rice invite me to eat lunch with them as I walk through town. I approach them and do my best to start conversation, though it often does not amount to much significance. I feel disappointed I cannot communicate with them. But their warm eyes dissipate my frustration.
The strangers say, "Ampela soa." Beautiful girl.

In just a short time, my new home—located in the poorest region of the world's tenth poorest country —has taught me a lesson about beauty. While their work seems endless and the days are hot, they greet me each day with a smile. I wasn't looking for it, but the Malagasy people have led me to beauty in its rarest form.
Their generosity, patience, happiness and resilience has taught me to find beauty in myself. I've found beauty in saying 'yes' in unfamiliar situations. I've found beauty in stepping outside my comfort zone and trusting in myself. I've found beauty in swallowing my pride (and curdled milk) and trying my best. I've found beauty in enjoying conversation in a language I am slowly learning. I've found beauty in sharing knowledge with others.

Dirty feet, fleabites, sweat and all, I feel beautiful.